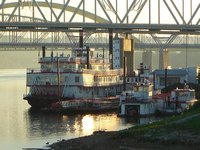 Not only is Kentucky the birthplace of former heavyweight boxing champion, Muhammad Ali, the state is also famous for its Native American contributions, horse races, historic landmarks and Civil War battles. In the 1800s and early 1900s, steamboats that traveled Kentucky's waterways transported passengers and cargo as far as Tennessee and Arkansas. Riverboat cruises are a relaxing and entertaining way to learn more about the Bluegrass State and explore the area.
Belle of Louisville and The Spirit of Jefferson
Belle of Louisville has cruised Kentucky's rivers since 1914. Originally named Idlewood, the steamboat initially transported passengers to Memphis, Tennessee and Memphis, Arkansas. The boat was repaired in the 1960s and renamed the Belle of Louisville. The other boat on the tour, the Spirit of Jefferson, was commissioned in 1963. Belle of Louisville can hold up to 750 passengers while the Spirit of Jefferson can hold up to 150 people. Boats are handicapped accessible.
Year round individual and group tours are available. Live entertainment played by an area band, dining and a narration of the Louisville area are included in the tour. Reservations are required 48-hours in advance of departure for lunch and dinner cruises. Menu items include roast beef, southern fried chicken, macaroni and cheese, green beans, potato salad, hot wings, coleslaw, peanuts, popcorn and soft pretzels. Guests can dance and dine on one of the boat's two decks. The steamboats cruise for two hours down the Ohio River through the Louisville Wharf, past Waterfront Park, Churchill Downs and downtown Louisville.
Belle of Louisville 401 West River Rd. Louisville, Kentucky 40202 502-574-2992 belleoflouisville.org
Queen City Riverboat Cruise
Queen City Riverboat cruises tour the Ohio River for three hours. Boarding begins 30 minutes prior to departure. Boats can be reserved for special events like weddings and other business and social functions. The boats cruise the Dayton, Kentucky Harbor, downtown Cincinnati and the Great American Ball Park. Lunch and dinner cruises provide menu items like roasted skinned potatoes, fried chicken, barbeque pork, turkey breast, hamburgers, salad, rice, roast beef and green beans.
Queen City Riverboat Cruise 303 O'Fallon St. Dayton, Kentucky 41074 859-292-8687 queencityriverboats.com/FAQ.asp
Dixie Belle Riverboat Rides
The Dixie Belle Riverboat cruises the Kentucky palisades, Shaker Village and the High Bridge area. Tours last one hour. The boat boards 30 minutes prior to departure time. The Dixie Belle Riverboat holds up to 115 passengers. Upon request the captain will narrate the cruise, pointing out historic landmarks and sites, while the two level paddleboat ambles down the Kentucky River. The boat is handicapped accessible and is equipped with restrooms. Reservations are required for groups of 20 or more people. Catering is available on reserved group tours.
Dixie Belle Riverboat Rides 3501 Lexington Rd. Harrodsburg, Kentucky 40330 800-734-5611 shakervillageky.org/riverboat_rides