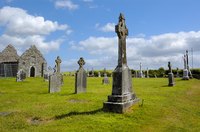 Ireland is a great destination for senior travel. English is commonly spoken and there are attractions for every type of interest. There are many traditional sightseeing tours that visit castles, natural wonders, charming towns, museums and churches. There are also specialty tours just for seniors that offer adventure travel or that focus on learning about Irish culture and history.
Saga Holidays
Saga is a British tour company offering tours to seniors since 1951. Its week-long "Irish Life and Legends" trip tours some of Ireland's most popular destinations including Galway Bay, the Cliffs of Moher, Dublin, Kilkenny Castle and the Ring of Kerry. There is also a cruise-based "Charms of the Irish Coast" tour that departs from Dover, England, and visits the cities of Cork, Dublin, Belfast and the medieval walled city of Londonderry and also makes a stop at the British Isle of Guernsey. All meals on the ship are included, and there is live entertainment, an on-board library and fitness center, cooking demonstrations and art classes.
Saga Holidays Ltd, The Saga Building, Enbrook Park, Folkestone Kent CT20 3SE +011 44-1303-771-111 travel.saga.co.uk/holidays.aspx
British Tours by Tristan
British Tours by Tristan offers tours for all age groups but specializes in travel for seniors (who generally receive a price discount). There are a few scheduled tours but the company mostly operates customizable, private tours of Ireland and around the British Isles.
British Tours by Tristan P.O. Box 100514 Denver, CO 80250 303-507-3844 www.britishtoursbytristan.com/
Elder Expeditions – Active Adventures for Seniors
Elder Expeditions tours focus physical activity rather than spending most of the day on a bus. Tours of Ireland include hiking and fishing around the Lakes of Killarney, sea kayaking in Kenmare Bay, horseback riding around Wynn's Castle, and cycling from Killarney to Ross Castle. Monasteries, medieval buildings and historic villages are visited, and the tour strives to get off the beaten path.
Elder Expeditions, Inc. 877-923-5337 P.O. Box 474 Fortson, GA 31808-0474 elderexpeditions.com/destinations-Ireland.php
Grand Circle Travel
Grand Circle Travel is one of the world's largest operators of tours for seniors. It offers a 13-day tour of Ireland that visits Galway, Killarney, Cork, Wexford and Dublin with a pre-tour extension option to Northern Ireland and post-tour extension option in Dublin. Visits include the seaside town of Cobh, popular with American tourists since many emigrants to the U.S. started their passage from its harbor. Trip highlights include a sheep dog demonstration and a home-cooked lunch in the home of a local family.
Grand Circle Corp. 347 Congress St. Boston, MA 02210 800-493-6824 www.gct.com
Exploritas – Adventures in Lifelong Learning
Exploritas was formerly known as Elderhostel, and since 1975 it has been a non-profit leader in travel-based educational opportunities for seniors. One tour option is "The Irish Isle: Intergenerational Enchantment," a tour for seniors and their grandchildren that explores Irish song and storytelling, folklore, Irish dancing and music and visits to popular sites like Blarney Castle and the Burren. "Perspectives on Ireland North and South" examines the history behind Irish political conflicts and includes visits to the Belfast shipyard where the Titanic was built and a performance at Dublin's Abbey Theatre. There are also traditional sightseeing coach tours around the country that explore classic Irish cities and historic sites.
Exploritas 11 Avenue de Lafayette Boston, MA 02111 800-454-5768 exploritas.org

Alumni Association Travel
The alumni associations of a significant number of larger American universities, like UC Berkeley, University of Michigan, New York University and Boston University, organize quality travel programs open to the general public. Not every association offers an Irish trip every year, but it is a popular destination that is regularly featured, and the schools' websites detail the trips for the upcoming year.