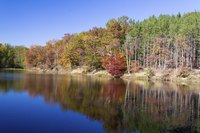 Even though the Little Nashville Opry burned down in 2009, the bustling town of Nashville, Indiana, still manages to attract thousands of visitors each year. In addition to several live entertainment venues, Nashville is also home to a quaint downtown with shop-lined streets, numerous galleries and several outdoor recreational opportunities. This artsy small town offers a pleasant change of pace from the big city, without sacrificing entertainment or activities.
Live Entertainment
Little Nashville is home to numerous live entertainment venues, ranging from country music and line-dancing at Mike's Music and Dance Barn to family-oriented shows at the Brown County Playhouse. Take in a rousing comedy or lively musical tribute show at the Palace Theatre of Brown County, located in downtown's Coachlight Square. The 60-seat outdoor Melchior Marionette Theatre hosts a renowned troupe that performs with hand-crafted marionettes and has been putting on shows around the world since 1952.
Outdoor Recreation
Brown County State Park is the largest state park in Indiana and spans approximately 16,000 acres. It features two fish-stocked lakes for fishing, an educational nature center, swimming pool, playground, county store, several picnic areas and miles of trails for walking, biking and horseback riding. Take an all-terrain vehicle tour with eXplore Brown County at Valley Branch Retreat, located about 8 miles south of downtown Nashville. In addition to zip lines -- including a nighttime zip line tour -- the facility has mountain biking trails and paintball fields.
Galleries and Art Studios
The artists J.C. Steele and Adolph and Ada Shulz moved into the area and set up the Brown County Art Gallery Association in 1926. Today, the Brown County Art Gallery hosts educational programs and exhibits in addition to displaying the work of current regional and state artists. An additional 18 galleries and studios call Nashville home. Browse through the folk art at A.W. Mathis Primitive Paintings, the abstract and impressionist works at Hoosier Artist Gallery, look at jewelry at the Amy Greely Studio or glass art at the Anne Ryan Miller Glass and Photography Studio.
Shopping Downtown
Hop aboard the Nashville Express for a two-hour narrated sightseeing tour of Nashville's historic sites, shopping hot spots, fine dining options, art galleries and other attractions. Eclectic shops and boutiques line Nashville's streets. Check out one of the numerous small antique stores or the Brown County Antique Mall, a 7,000-square-foot space stocked with furniture, pottery and jewelry. Other specialty shops downtown sell handmade candy, high-end fashion, Native American goods, gifts and housewares.