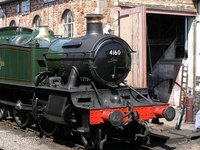 Michigan once had hundreds of railroad companies operating trains over thousands of miles of track. Today, though most of them have gone out of business, Michigan still has a number of companies and organizations that operate smaller trains for short trips and tours. These train rides are not for train enthusiasts alone. Some of these companies also conduct specialized rides such as Christmas rides, seasonal tours, and even dinner rides, all of which run through the countryside or through farmland.
The Old Road Dinner Train
The Old Road Dinner Train runs tours from two locations; Charlotte, Michigan, and Blissfield, Michigan. The train runs mostly on Saturdays, but also on select Fridays and Sundays. Besides the regular dinner rides, the railway conducts special seasonal rides, such as a Cotton Tail ride for Easter and a Santa Train ride around Christmas. Both locations also host a special Murder Mystery Dinner ride a few times a month. Depending on the specific theme, the rides run from one and a half hours to three hours. Special event rides also can be booked for larger groups.
The Old Road Dinner Train 301 E. Adrian St. Blissfield, MI 49228
&
451 N. Cochran Ave. (M-50) Charlotte, MI 48813 888-GO-RAIL-1 murdermysterytrain.com
The Coopersville & Marne Railway Company
The Coopersville & Marne Railway Company runs twice daily train rides, on Saturdays and Wednesdays. These rides last about one hour and fifteen minutes, with the turnaround point being the Village of Marne. The train cars themselves are antiques from the early 20th Century, and the train runs through the countryside and various family-owned farms. This train also runs special holiday and themed rides. Special charter services also are available for large groups.
The Coopersville & Marne Railway Company PO Box 55 Coopersville, MI 49404 616-997-7000 coopersvilleandmarne.org
Little River Railroad
The Little River Railroad train is pulled by an antique steam locomotive that was built in 1911 and has only been out of service for 20 of its 99 years. The train runs from Coldwater, Michigan, to Quincy, Michigan, and back again. The ride takes about one and a half hours. The train schedule varies from month to month, but it runs primarily on Saturdays, Sundays, or Thursdays. Please check the online schedule to plan your ride. Besides the regular weekly rides, the railroad also features special holiday rides for Easter, Mother's Day and Father's Day.
Little River Railroad 29 W. Park Ave. Coldwater, MI 49036 260-316-0529 littleriverrailroad.com