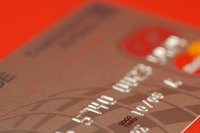 Unsecured debt is a type of debt that does not require a piece of personal property for collateral to obtain the loan or credit. Secured debt, on the other hand, does require an asset to be put up as collateral. This type of debt includes a mortgage, where a home is used as collateral for the loan.
Credit Cards
Credit cards are a type of unsecured debt, because your application is approved or denied based solely on your credit history and other information you provide on the application, such as your income. Secured or prepaid credit card options do exist, but these typically are used by people who are trying to build credit or improve their credit scores so they can qualify for an unsecured credit card.
Line of Credit
Another example of an unsecured debt is a line of credit. Similar to a credit card, a line of credit is a form of revolving debt; as you use the line and then pay it down, it is available for you to use again, up to a certain limit. A line of credit can be accessed as needed, so you can establish a line of credit but never use the money available to you. When you access the line, you can access the amount you need at the time without having to use all the money at once.
Personal or Signature Loan
A personal or signature loan is another type of unsecured debt that typically is issued by a bank. The primary difference between a line of credit and a personal or signature loan is that the personal or signature loan is given to the borrower in a lump sum, and once the borrower pays off the loan, it is not available for his use again.