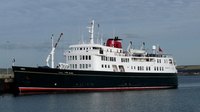 Riverboat cruises are available on many of Ohio's rivers, including the Ohio, the Muskingum and the Cuyahoga. The Cuyahoga River, in Northeast Ohio, empties into Lake Erie, where cruise ships run along the upper edges of the river and along the shores of the lake.
Goodtime Cruise Line, Inc.
The Goodtime Cruise Line offers cruises along both the Cuyahoga River and the shore of Lake Erie. Their flagship, the Goodtime III, with its huge quadruple-deck and the ability to carry 1,000 passengers, is the largest luxury ship on any of the Great Lakes. The four decks give you a choice of full-sun, semi-opened, or glass enclosed sightseeing, depending on the weather and your preference. Their full line of cruises includes regular sightseeing trips, Happy Hour entertainment cruises, as well as Dinner/Dance excursions. The Goodtime III sails in all types of weather.
Goodtime Cruise Line, Inc. 825 E. Ninth St. Pier North Coast Harbor Cleveland, OH 44114-1017 216-861-5110 goodtimeiii.com
Nautica Queen
The Nautica Queen, known for its lavish onboard dinners and buffets, bills itself as "Cleveland's favorite cruise dining ship." The cost of the cruise includes a buffet-style meal for everyone. With room for up to 400 passengers, its two enclosed decks and one open deck provide views of the Cleveland skyline as it cruises along the Cuyahoga River and Lake Erie. You can book private cruises for parties and social events, or take part in one of the many public cruises on the water.
Nautica Queen 1153 Main Ave. Cleveland, OH 44113 800-837-0604 nauticaqueen.com
Aqua Charter, LLC
Aqua Charter, LLC owns The Majestic, a yacht available for charter cruises for you and your family, friends, and/or business associates. Built to accommodate up to 144 people, The Majestic hosts birthday parties, weddings, reunions, business dinners and more. The yacht plies the waters of both the Cuyahoga River and Lake Erie, providing views of Cleveland's shoreline and skyline.
Majestic Yacht P.O. Box 45294 Westlake, OH 44145 440-243-5141 majesticyacht.com
Holiday Cruise and Charter Boat
The Holiday Cruise and Charter Boat is a 60-foot vessel that can carry up to 75 people. Its crew hosts custom charters to meet your needs, whether for business meetings or for pleasure cruises. This is a boat fully equipped to handle parties, banquets, and social events of all types. A special service is their "football cruise." You will depart from 1800 Scranton Road where you can park your car and even enjoy "tailgating" before the game if you choose. Then you will travel to Cleveland Browns Stadium on the Holiday, where they drop you off to watch the game. The Holiday will pick you up after the game and return you to your car.
Holiday Cruise and Charter Boat 1800 Scranton Road Cleveland, OH 216-771-2628 holidaycleveland.com/