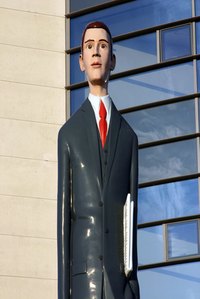 Bankers are often seen by businesses as enemies or obstacles to loans and credit. However, if you step back and look at the relationship between bankers and businesses you can see that both parties have very similar interests.
Risk
Both bankers and businesses agree that risk is a bad thing. This is especially true when you consider the idea of needless risk. If a business can't convince a banker, and through him the bank, that the business is a solid investment with a good chance of success then the chances are good that the business won't be able to get help from that bank.
Success
One common interest that bankers and business owners have in common is that both parties want a business to succeed. If a business owner succeeds, then he can afford to pay back the loans that a bank may give him. The business owner will then be in a good position to get another loan to help extend his business. Successful businesses make both their owners and their bankers happy.
Contacts
Bankers and business owners who have a good relationship can share a pool of information. For instance, if a business owner needs additional help with supplies or advertising, his banker may have other clients that could assist him by providing necessary services. If a banker needs a larger client base, a satisfied business owner is likely to funnel other business owners and potential business owners to the banker.