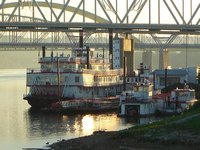 Stretching 2,320 miles from the northern plains in Minnesota to the Gulf of Mexico, the Mississippi River is the largest river system in the United States. River transit is an important part of this great river, and you can relive days gone by when you take a riverboat cruise from any number of ports. You can climb aboard the Delta Queen, experience the Twilight, or take a cruise on a smaller steamboat.
Delta Queen Riverboat Cruise
Now a historic landmark, the Delta Queen steamboat was built in 1927 and once ferried U.S. naval troops during World War II. You can cruise with this "grand lady" down the Mississippi River through the heartland of America and the Old South. The Delta Queen brings back memories of voyages past with hardwood paneling, teak handrails, and ornate finishing and trim. You'll find comfort in the Texas, Forward and Betty Blake lounges, or in a Victorian-style sitting room. On your cruise, you can watch the scenery from the comfort of a rocking chair on deck, or from your vantage in the Engine Room viewing area. All Delta Queen state rooms are outside cabins with furnishings from the era when the Delta Queen was in her prime. Dinners are also available, including the Captain's Dinner (the second night of your cruise) and the last night. They are formal dinners, so you'll want to dress appropriately. Cruises last anywhere from three to 12 days. Departure ports include Chattanooga, Memphis, Nashville, Cincinnati, Pittsburgh, St. Louis, St. Paul, New Orleans and Mobile. You can choose to visit all manner of ports, from as far north as Minnesota and as far south as Louisiana.
Mississippi River Cruises 5851 San Felipe, Suite 500 Houston, TX 77057 800-338-4962 mississippirivercruises.com
Riverboat Twilight Cruises
A replica of a Victorian steamboat, the riverboat Twilight was built in 1987, and it features three decks, dining salons and sundecks complete with lounge chairs. The Twilight is also air-conditioned and heated. You can take this replica steamboat for a vacation down the Mississippi River and enjoy the sights of the Midwest along the way. On your two-night cruise, you will start at the Upper Mississippi at Le Claire, Iowa, the home of Wild Bill Cody, and travel more than 100 miles to the Port of Dubuque, Iowa, eventually making your return back up the Mississippi to Le Claire. You don't stay on board at night. Instead, you will disembark at Grand Harbor Resort in Dubuque. This resort features a 25,000-square-foot water park with a casino nearby. Cruises typically start the last weekend in May and continue until the end of October. Your cruise package includes all meals, activities and lodging.
River Cruises 406 Franklin St. Scales Mound, IL 61075 815-845-2333 riverboattwilight.com
Julia Belle Swain Steamboat
The upper Midwest in La Crosse, Wisconsin, is the starting point for a two- or three-day cruise on the Julia Belle Swain Steamboat. You can either take a cruise up to Winona, Minnesota, or down to Prairie du Chien, Wisconsin. The boat, a 149-foot replica of an 1800 sternwheeler, will carry you on your way. There are no cabins onboard this steamship, and all sleeping accommodations are located onshore. The Julia Swain features distinctive Victorian-style furnishings and decor, and it will make you feel as though you have stepped back in time to another bygone era. You'll find plenty to do during your cruise, from board games to bingo to scavenger hunts. Children are always welcome.
Small Ship Cruises Inc. Suite 601 100 Beach Drive NE St. Petersburg, FL 33701 smallshipcruises.com