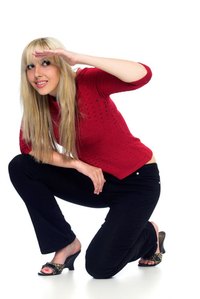 Call them what you want: jumble sales, garage sales or tag sales. The bottom line is that a well-organized jumble sale brings in extra cash and de-clutters your house. Just as good Saturday garage salers prepare themselves by planning routes and carrying small bills, you will find that the more time you devote to planning pricing schemes, displays and advertising, the more lucrative your jumble sale will be.
Location, Location, Location
Since garage sales depend on drive-by traffic, having a sale in an inaccessible location isn't worth the trouble. If you live in an area that is off the beaten track, you are not without alternatives, however. Ask a friend who lives in a better location if you can borrow her driveway. Sweeten the deal by offering to sell her stuff for her. Rent a booth from a charity that regularly does sales. Local high schools and community colleges often rent space to vendors to raise money. These can be lucrative because you can guarantee that your goods will be exposed to a large crowd.
First Appearances
Face it, people are unlikely to wade through deep boxes of miscellaneous items on the ground. If you don't have at least a few tables, consider putting up boards on sawhorses to display your better items. Tie a rope to trees or fences so that you can hang clothing. Group items together so that kitchenware is with kitchenware. If you have to put items in boxes on the ground, make sure it's not your most expensive merchandise and is well organized by category. Large eye-catching items are always a big draw so position bright-colored clothing or a large piece of furniture near the curb. A big "FREE" sign for a box of freebies is always a crowd-pleaser.
Pricing
Although many folks swear that not pricing works, the general consensus seems to be in favor of pricing. You don't want to have to make the customer come find you to ask about every item they are potentially interested in. Folks who want to haggle will haggle regardless of whether or not there is a price, so pricing won't scare them off. Save yourself work and price items by category as much as possible. For example, hard-cover books might go for a dollar, paperbacks for 50 cents and so forth. Be sure to post your pricing signs prominently.
Advertising
Garage sale advertising involves a two-prong approach: signage and media advertising. Signs should be short and to the point because nobody is going to stop and read them. Bright colors that catch the eye are important. Remember, in the sea of garage sale signs, you want people to see yours! Advertising in your local newspaper is helpful, especially if every Saturday they have a specific area in the classified section for garage sales. Craigslist is also a resource. In the advertisement, be sure to mention your unique items, such as vinyl LPs, antiques or furniture.
Preparation
Garage sales are an incredible amount of work. You can count on being up late the night before and hitting the pavement early. Setting up materials can be physically draining. If it is sunny, be sure you are dressed for the occasion with sun protection. If you have someone help–even for an hour–you'll be less drained at the end of the day. However, hosting a garage sale alone can be done if you are very organized.
Finishing Up
Be prepared to load everything in the car at the end of the day and bring it to your local charity. The last thing you want is left over stuff sitting around at the end of the day. Often haulers or charities drive around at the end of the day, hoping to catch end-of-the-sale donations. This can be helpful, but don't rely on them showing up or taking everything.