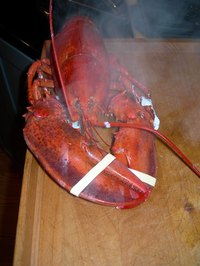 With communities sitting on Lake Michigan, northwestern Indiana has no shortage of seafood restaurants. The northwestern portion of Indiana features a number of fish and seafood restaurants. Not far from Chicago, Illinois, restaurants in northwestern Indiana present some of the most acclaimed seafood cuisine in the region.
Martini's Steak & Seafood
Martini's Steak & Seafood can be found in Valparaiso, an Indiana suburb located within Chicago's metropolitan area. In addition to steaks and chops, chicken and veal selections, Martini's has expansive seafood options. The restaurant also features a range of seafood appetizers, including steamed mussels, fried calamari and baked clams, in addition to soups and salads as starters. Choose from fish entrées like pan-seared salmon, lemon flounder and snapper wrapped with shrimp. Martini's features over a dozen pasta dishes, some of which include seafood, like the linguini and clams and fish ravioli. Seafood Garibaldi includes shrimp, clams, mussels, scallops and squid over linguine with marinara sauce.
Martinis Steak & Seafood 1004 Calumet Ave. Valparaiso, IN 46383 219-464-0801 martinisinvalpo.com
Freddy's Steak House
A landmark in Hammond, Indiana, Freddy's Steak House is an acclaimed restaurant in the region serving a number of steak varieties. The restaurant also features a diverse menu of seafood specials. Lobster tail, Alaskan king crab legs, bay scallops and a Greek-style fish filet are among the restaurant's seafood entrée selections. Each of the seafood main courses comes complete with a bread basket, relish tray and a choice of potatoes, soup and salad or cottage cheese. Most of Freddy's appetizers are seafood plates, like baked escargot, shrimp cocktail and calamari. Patrons can complete their Freddy's experience by choosing from dessert options like tiramisu, mudd pie or New York cheesecake, among others.
Freddy's Steak House 6442 Kennedy Ave. Hammond, IN 46323 219-844-1500 freddyssteakhouse.net
Joe's Crab Shack
Joe's Crab Shack is a seafood chain restaurant with locations around the country, including a restaurant in the northeastern Indiana town of Merrillville. Crab Shack patrons can start with appetizers like crab-stuffed mushrooms, crispy calamari or a bucket of shrimp, among others. Starters also include seafood salads like the crab cake chipotle Caesar and the Aruba shrimp salad. Entrées run the gamut and include seafood platter varieties, seafood enchiladas, fish & chips and blackened tilapia. Patrons can choose among Dungeness, snow and king crabs, and pick from flavors like garlic herb and barbecue. Additionally, the restaurant serves several burgers and additional shrimp selections. Key lime pie, bread pudding and New York cheesecake are among the desserts.
Joe's Crab Shack 2757 E. 80th Ave. Merrillville, IN 46410 219-942-4554 joescrabshack.com