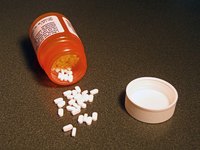 Extra estrogen in a woman's body can cause an increase in the amount of thyroid-binding gobulin, which is a protein that soaks up any excess thyroid hormone in the body. This turns the hormone from "free" to "bound," meaning that it is less active than it would be if it were not soaked up. This causes a condition known as "hypothyroidism" and affects the performance of your thyroid gland. The disease produces several signs and symptoms, and if you experience them, you should consult a medical professional to have a full thyroid function assessment.
Hair and Skin Changes
If you begin noticing thinning hair and even begin losing it in clumps, experience dryer skin than normal, or your skin even begins to turn yellow, chances are there is something that your body is trying to tell you. The same goes for brittle nails that break or snag easily. These are all signs of hypothyroidism.
Fatigue
If you can feel yourself moving more slowly than normal or feel lethargic and just don't have as much energy as you used to, it may be something more than being tired. Thyroid levels that are out of whack can cause you to feel sluggish and lazy.
Sensitivity to Cold
Another sign of a thyroid problem is not being able to tolerate cold weather or conditions. Also, if you begin to notice that your extremities are cold when you are indoors or in warm weather when they didn't used to be, it's time to get checked out.
Memory Problems
Although we all have trouble with this at times, problems remembering, concentrating and staying on task can all be symptoms of a thyroid disorder. If you begin feeling depressed when you are typically happy, a checkup can't hurt.
Bathroom Irregularities
Constipation is another common symptom of a thyroid disorder. Our bowel movements tell us a lot about our general health, so if you begin noticing some inconsistencies, it may be because there is a problem.
Menstrual Cycle
Heavy and irregular menstrual cycles that last longer than five to seven days can be caused by thyroid irregularities. If you notice that your periods are lasting longer than normal, contact a medical professional regardless of whether you are suffering from any other symptoms.
Less-Common Symptoms
There are other less-common signs of thyroid problems. These symptoms include a goiter (a noticeably enlarged thyroid gland), noticeable weight gain, excess fluid in the extremities and muscle aches and cramps.
If you experience one or more of these symptoms on a consistent basis, contact your primary care physician or a specialist at your earliest convenience.