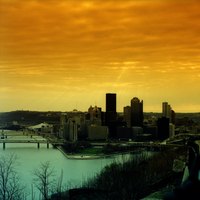 The historical city of Pittsburgh, the second largest city in Pennsylvania, is located at the conjunction of the Allegheny River and Monongahela River that together form the Ohio River. While the city was originally developed around the steel industry, in recent times it has become a hub for financial institutions, technology, health care and other industries. A number of country western-style bars are located within Pittsburgh and the surrounding area.
Saddle Ridge
Saddle Ridge is a country western bar situated just across the Ohio River from downtown in the Mt. Washington section of Pittsburgh. According to reviews on collegeproweler.com, \"Saddle Ridge is the only place in Pittsburgh you're bound to spot hundreds of cowboy hats and plaid shirts\" on any given night. This \"Rock-N-Country Saloon\" features a number of events each month, such as College Night and Duty Free Friday, and complimentary line dancing lessons on Friday and Saturday nights.
Saddle Ridge 1 E. Station Square Drive Pittsburgh, PA 15219 412-434-6858 saddleridgepittsburgh.com
Bootsie's
Bootsie's is a country western bar in the suburb of Mckeesport, about a 20-minute drive from the heart of Pittsburgh. For night entertainment, Bootsie's features a range of live bands focusing on country and classic rock, as well as number of house DJs on Fridays. The bar also has a full kitchen that operates seven days a week and offers a menu stocked with American-style bar favorites like buffalo wings and steak sandwiches.
Bootsie's 699 O'Neil Blvd. Mckeesport, PA 15132-1503 412-672-1120 bootsiesbar.com
Carson City Saloon
The Carson City Saloon is a country-style restaurant and sports bar in the heart of Pittsburgh. It's set in a three-story bank building constructed in 1896 that has been transformed to suit the needs of a modern bar and restaurant. Eighteen different domestic, imported and specialty beers are available on tap, as well as a complete list of martinis. The Carson City Saloon features country acoustic artists every Wednesday night, weekly specials like 25-cent wings on Mondays and discounted pitchers on Tuesdays.
Carson City Saloon 1401 E. Carson St. Pittsburgh, PA 15203-1511 412-481-3203 carsoncitysaloon.com?