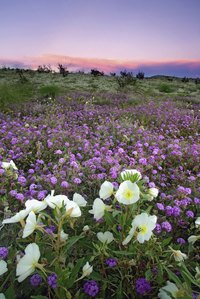 Paddle a canoe down Northern California's Russian River and you might just get an eyeful. Sunbathers working on all-over tans often park their beach chairs and coolers on half-hidden bits of sand. That is, half-hidden until you paddle around that last bend. You may be asked to join the party. If you prefer to bare-all in someplace a bit more private, California has a number of alternative lifestyle resorts for you to choose from.
Desert Paradise Resort – Gay Men Only
Palm Springs' desert climate and laid-back attitude toward life make this Southern California town a magnet for those who enjoy baring it all. Gay men will find a liberating atmosphere at the Desert Paradise Resort. The 1940's Spanish-style hacienda features decadent rooms surrounding an inner courtyard and the pool. Each room is named for a female celebrity whose portrait graces the room. Cher, Mae West and Lucille Ball are just a few of the femmes fatales immortalized at this posh retreat.
Palm Springs Area – All Adults Welcome
The Desert Sun Resort welcomes all adults. Built in 1992, it sits on land that once belonged to Doris Day and Errol Flynn. This upscale property now takes up one city block and includes regular guest rooms, luxury condos and villas. Clothing is optional except for the pool, hot tub and the pool deck. This property has a strict no camera and no cell-phone policy to protect its guests so you never know who you'll run into. The Sea Mountain Resort in the Desert Hot Springs area is a couple's only retreat that has more of a Caribbean atmosphere. The pool and sundeck are nude-only while minimal clothing is allowed in the restaurants and nightclubs. Spend the night or come for a day or evening visit. The resort has only 15 rooms, so book ahead.
De Anza Springs Resort – Family Friendly
De Anza Springs Resort borders the town of Jacumba in eastern San Diego County. The 500-acre resort has both a 311-space RV park and motel rooms. The accommodations are somewhat modest. The draw is the location, right next door to Anza-Borrego Desert State Park. Visitors can hike or mountain bike in the nude. Liberal use of sunscreen is advised. This resort welcomes families that follow the naturist lifestyle. The pool and spa areas are nude only and children are welcome as long as they are supervised. Well-behaved, leashed pets are allowed in the campground, but not in the spa or pool areas.
Laguna Del Sol – Lakeside and Family-Friendly
Laguna Del Sol is a 250-acre family-friendly resort near Sacramento. Camp in your RV or tent, rent out a park model mobile home or stay in the on-site hotel. The rather rustic property is built around Lake Archie. Rent a kayak or paddle boat for some time on the water, or jog or cycle the path around the 25-acre lake. Four pools, a restaurant, an adults-only lounge and a fitness center are just some of the amenities available on site. Dogs are welcome except in the buildings and the pool areas. A fenced dog park is available where they can roam around leash-free.
Harbin Hot Springs – A Taste of the Unusual
Harbin Hot Springs is in Middleton, a small town northeast of Santa Rosa. It is a clothing-optional resort with a Zen-like quality. The emphasis is on leading a healthy lifestyle. Soaking in the natural spring water pools, taking yoga classes and enjoying organic cuisine are part of the resort experience. Cottages, hotel rooms and tent cabins are available but it is the dome rooms that are the attention grabbers. Perched above the property, a series of geodesic domes disguised as giant cabbages provide rather unusual accommodations. The round design of the geodesic dome is one of the strongest architectural forms known, but it never really caught on in mainstream American architecture. Available with shared or private bath, these adults-only "hippie rooms" are the most popular in the resort and book up quickly.