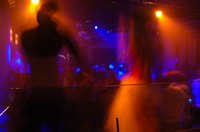 The Miami night scene can be brutal. After waiting long lines and battling pretentious doormen, you're then expected to pay admission. But not all clubs require you to pay in order to play. In fact, some of these nightclubs even offer a better scene and better crowd then those who charge fees at the door. Keep your money in your pocket and spend it at the bar instead, at one of these hot Miami clubs where you'll never have to pay a door fee.
Red Room at the Shore Club
Shore Club on South Beach is known as a party hotel on the busy strip of Collins Avenue. From its daytime pool party scene to its popular on-site nightclubs, Shore Club has both indoor and outdoor party areas. The garden, also known as Skybar, has a great Mediterranean lounge feel, while the indoor Red Room has a vibrant and energetic nightclub feel. The den like club boasts eclectic furniture within bold red walls and sheer curtains. On any given night, you can find local DJs spinning the best open format music to please the sophisticated crowd it lures in. Best of all, there's never a cover or pushy doorman to get through the velvet ropes.
Red Room at the Shore Club 1901 Collins Ave. Miami Beach, FL 33139 305-695-3100 shoreclub.com
Club 50 at the Viceroy
Perched above the Viceroy Hotel's 50th floor club on Brickell is Club 50. The indoor/outdoor venue may look like a hotel lounge but features some highly music driven nights on a weekly basis. The inside features marbled floors and bars with turquoise leather sofas for lounging, but there's plenty of dancing space when both local and celebrity DJs take stage at this swanky club. There are also couches surrounding the infinity pool in the outdoor terrace that is available for bottle service and features a separate DJ offering a diverse selection of music for guests who want to party while viewing panoramic views of the city. Take the hotel elevator straight up to the 50th floor, and whether you're a hotel guest or just a curious passerby, you'll never experience a door cover. Club 50 is open Tuesday through Saturday evenings.
Club 50 at the Viceroy 485 Brickell Ave. Miami, FL 33131 305-503-4400 viceroymiami.com
Coco De Ville
This West Coast night spot has recently made its way East. Coco De Ville was designed as an intimate lounge off the lobby of the Gansevoort South, but like all things in Miami, its a place where people flock to for all night dancing and drinking. The space features plush retro couches and leafy lighting giving it a tropical lounge feel. Big name DJs like Ross One are headliners on a regular basis, drawing attention to this new South Beach spot, and although the club already carries a reputable name, you still won't be charged an admission fee to party at this elite scene.
Coco De Ville 2377 Collins Ave. Miami Beach, FL 33139 305-604-1000 gansevoortmiamibeach.com