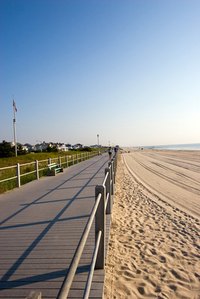 New Jersey has one of most popular stretches of beach and boardwalk on the East Coast. Summer brings hordes of tourists eager to escape the big cities nearby and spend some time lounging in the sun. Many public beaches require guests to purchase a daily or weekly entrance badge; there also are many beaches that are privately owned and maintained by hotels, clubs and individuals. These may or may not allow the public to enter for a fee.
Point Pleasant
There are both public and private beaches in Point Pleasant, New Jersey. As with many beach towns on the Jersey Shore, there is also a lively boardwalk with shops, restaurants, bars, arcades, rides, gift shops and junk food of every description. At the north end of town is privately-owned Bradshaw Beach and its boardwalk, which is also private. The area is heavily monitored at all entrances and it is necessary to purchase a daily or seasonal badge at one of the entry points. You can access Martell's Tiki Bar from the south end of the beach if you need a refreshing beverage and a snack.
Bradshaw Beach Ocean Avenue Point Pleasant, NJ 08742 732-899-1132 pointpleasantbeach.com

Pier 6600 Hotel
Right on the sands of Diamond Beach, in Wildwood, New Jersey, is the Pier 6600 Hotel. The hotel has both a huge pool area and its own private beach. The hotel provides lounge chairs, beach towels and umbrellas and there is easy access to the Barefoot Bar and Grill from the beach. You must be a hotel guest to use the beach, but the rooms are reasonably priced and there are large efficiency units available, making it a popular family vacation destination. It is just a few miles down the beach to Wildwood's legendary cluster of boardwalk amusement piers.
Pier 6600 Hotel 9701 Atlantic Ave. Wildwood, NJ 08260 609-729-6600 pier6600.com

Le Club
Le Club is a members-only beach club in Long Branch, New Jersey with an exclusive beach and a reputation for being a little bit snooty. Long Branch, one of the Jersey Shore's larger cities, has been a destination for the rich, famous and socially registered since the 1860s, and still treasures its nickname of "the first seaside resort." The club's decor is polished marble and Venetian plaster and there is a staff of good-looking men and women to cater to guests' every whim. Children are welcome in the daytime and the club provides beach cruisers, surfboards and all manner of recreational equipment. At night, expect exotic lighting and even more exotic drinks as the whole place turns into a nightclub.
Le Club 23 Ocean Ave. Long Branch, NJ 007740 732-759-2900 leclubavenue.com