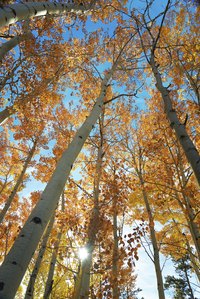 While you can explore 143 trails, six terrain parks and more than 3,000 acres of skiable landscape on skis, ski bikes, snowboards and snowshoes at Winter Park Resort in Colorado, the site also provides an array of other recreational activities. Familiarize yourself with the year-round resort's offerings by embarking on a free orientation mountain tour offered twice daily from mid-December through early April.
Winter Wonderland
Bask in the snow-covered landscape while you enjoy figure skating on the outdoor rink located in the resort's bustling village. Sessions are available on an hourly basis and discounts are on hand for families and groups. On some nights, the rink plays disco music while a disco ball swirls overhead. Embark on a two-hour tour of the resort from inside a heated "snowcat," a heated and enclosed motorized snow vehicle that seats 13. The park also has a tube park where you can ride four trails down steep hills and sharp curves in a snow tube.
Free Arts and Entertainment
Save a pretty penny by enjoying free resort entertainment. From late June through late August, the gazebo in the village stages free Friday afternoon concerts. Bands typically cover such genres as country, blues, dance and 80s music. During the same season, the village also hosts free outdoor movies at dusk on Friday nights. Take in family-friendly films from the comfort of a lawn.
Frolicking Fun
Young kids can burn off energy in the resort's bounce houses, while the more adventurous traveler can climb inside GyroXtreme, a caged ball where riders spin and roll across the landscape like a hamster in a ball. Test your skills in the maze, a timed labyrinth dotted with four checkpoints, or play 11 holes of miniature golf in the themed course that honors landmarks from the surrounding region. Maneuver your way along a 3,000-foot-long alpine slide as you journey down a 610-foot vertical drop on plastic equipped with rollers and brakes.
Work It Out
Enjoy a work out in the great outdoors with a game of disc golf at the 20-hole course with sweeping views of the valley. There's also a mountain biking park with 600 miles of trails and an on-site sheer vertical climbing wall. Broomball, hockey in rubber-soled shoes and with small sticks and a small ball, is available, free of charge, on the village ice rink once a week during the winter. The facility provides the equipment for participants.
High Flying
See the valley and mountains from a unique angle – high above it all. Tied into a harness and bungee cord, you can jump and gain serious air on one of four trampolines at the Leaps and Bounds Bungee attraction. Kids can soar over the resort from a slightly elevated height on the mini zip-line run while everyone can enjoy the view from the scenic chairlift rides offered during the summer. Climb up to 10,700 feet as you take in sweeping vistas of the surrounding Rocky Mountains.
Retail, Restaurants and Relaxation
Spend a leisurely day in the resort's quaint village lined with brick pathways. Most of the shops consist of stores selling outdoor recreational gear and equipment. There are also retail outlets outfitted with toys, souvenirs and sundries. The village includes nearly 20 dining establishments, including coffee houses, bar and grills, pizzerias and taverns. Finish your day by indulging in a leisurely massage at the Alpenglow Spa.