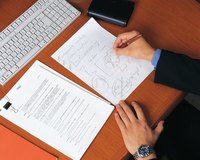 It is common for managers and executives to consider corporate cost reduction ideas. Unfortunately one of the cost cutting measures some companies take is to let employees go when times get tough. If plans are put into place when a company is experiencing a profitable time, then the company stands a better chance of surviving lean times without having to cut personnel. While ideas such as turning off lights when not using a room or lowering the office temperature are good, there are other ideas that can have long-term savings as well.
Manufacturing
Some companies spend more on manufacturing than they should and they may not even realize it. If your company has bins of parts sitting around that do not get used or finished products with no orders attached to them then you could be losing money on your manufacturing process. Re-evaluate your on-hand material inventory once a quarter, and only purchase what you need based on current sales projections. When you streamline your manufacturing process you save money on the materials you purchase, and you are only buying what you need as opposed to an inflated projection.
Purchasing
Talk with your suppliers to see what kinds of discounts they can offer you. It is common for vendors to offer small discounts if you pay your bills early or on time. There may be quantity discounts you were unaware of that match your material needs. Consider consolidating vendors to eliminate multiple purchasing processes, and to see if you can get discounts based on volume that would make a sole source vendor more cost efficient than shopping multiple vendors for prices.
Payables
Just as you are looking for discounts from your vendors, see if your customers would be interested in the same opportunities. If you can speed up your cash flow by offering a small discount to customers that pay early or on time, then you reduce the cost of financing those invoices for more than 30 days. By increasing your cash flow through customer paying incentives, you increase your available cash on-hand and help to reduce your reliance on credit.