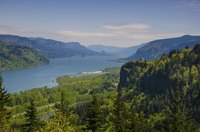 The Gorge Amphitheatre sits along the Columbia River Gorge in Washington State, providing scenic vistas of the river canyon and surrounding mountains. The outdoor concert venue -- with terrace-style lawn seating and a capacity of 20,000 -- plays host to the Sasquatch! Music Festival each Memorial Day weekend, as well as other acts throughout the year. Past performers have included Aerosmith, Bob Dylan, the Dave Matthews Band, Paul Simon, Pearl Jam and Sting. To maximize the enjoyment and experience for concert attendees and those staying overnight at the amphitheater campground, the venue has a number of regulations that guests should follow.
Food and Beverages
Visitors are not allowed to bring alcoholic beverages or soft drinks into the amphitheater. One factory-sealed plastic bottle of water up to 20 ounces is allowed, as are empty plastic water containers. Alcoholic beverages can be purchased at stands inside the amphitheater grounds and taken to your seat. You can bring food inside the venue in a gallon-size clear plastic bag, with a limit of one per patron. Various food items are sold inside the grounds. No glass bottles, cans, coolers or ice chests are allowed into the amphitheater. Alcoholic beverages also are prohibited in the parking lot.
Prohibited Items
Visitors are not allowed to take recording devices, video cameras or cameras with removable lenses or flashes into the amphitheater, although small personal or disposable cameras are permitted. Other items that may not be taken inside the venue include illegal substances, weapons, lawn chairs, bicycles, laser pointers or pets, with the exception of service animals. School-size backpacks typically are permitted and are subject to a visual search, but larger backpacks are not permitted.
Other General Rules
The amphitheater's gates typically open two hours prior to showtime, and all seating is general admission. Children under age 2 receive free general admission, although tickets are required for all ages in the reserved seating section. Strollers are allowed inside the amphitheater. No overnight parking is allowed in the parking lot. Re-entry is not permitted for one-day events at the amphitheater, although it may be allowed for attendees at longer festivals who possess a multi-day wristband or pass.
Campground Regulations
Concert attendees are allowed to stay overnight at the Gorge Amphitheatre's adjacent campground. Concert tickets are required to stay in the campground, and each campsite allows a maximum of six people. The campground typically opens at mid-afternoon the day before the concert and closes at midday the day after the event. Alcohol is allowed on each campsite but not in public areas or on roads, and large parties or kegs are not permitted, even on campsites. No fireworks or campfires are allowed. Tents and RVs are allowed on designated sites, but no hookups are available. As in the amphitheater, pets are not allowed in the campground with the exception of service animals.