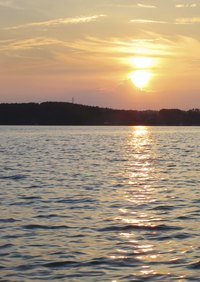 Public cruises and private, captained charters let passengers relish gourmet food while sailing the gentle waters of Lake Norman. Choose between a customized itinerary on a contemporary yacht or the charm of a riverboat cruise, and get ready to embark on memorable night on the lake.
Dinner and More
Queens Landing's four-course dinner cruises offer narrated tours of Lake Norman all year long on your choice of ships: an authentically-styled Mississippi Riverboat and a modern, luxury yacht. The yacht, The Lady of the Lake, sets sail for two and a half hours on Thursdays through Sundays and provides passengers with a formal, plated dinner service. Passengers aboard The Catawba Queen riverboat are treated to chef-served buffet dinners also on Thursdays through Sundays. Before embarking, ticketed guests can enjoy the amenities of the Queens Landing complex in Mooresville. The facility frequently has live music at its lakeside grill, and families can enjoy a round of mini-golf and ice cream parlor treats.
Private Parties
Yachta Yachta Yachta Charters sail from the Peninsula Yacht Club in Cornelius. The double-decked 67-foot boat can sail with up to 100 people aboard, including crew, though the ship is frequently booked for smaller, more intimate parties. While the top deck is open for sight-seeing and star gazing, the lower deck has extra tall window banks designed to give even those eating meals below deck a chance to see the passing scenery. Yachta Yachta Yachta works with a network of caterers, so you can create your ideal menu, and your cruise's length and itinerary can also be customized.
Large-Scale Events
Luxury Yacht Charters allows for dinner cruising on a grand scale. The ship, The Ragin' Mistress, can accommodate up to 150 people, including crew, and gets the nod for celebratory dinners, wedding receptions and private corporate events set against the backdrop of Lake Norman. A heated upper deck ensures that your guests can enjoy the lake views even when winter temperatures arrive. Luxury Yacht Charters partners with Catering Creations and can supply guests with everything from multi86course plated meals to passed cocktails and hors d'oeuvres.
The Sights
One of the largest lakes in North Carolina, Lake Norman is a man-made lake created in the early 1960s as a result of the construction of the Cowan's Ford Dam The tree-lined shoreline covers approximately 520 miles and tours of the lake will vary in terms of sights depending on your point of departure. Most tours will indicate the homes of prominent denizens, past and present, and provide a history of the lake. If you are new to the area, be sure to ask the cruise operators about Lake Norman's legendary wampus monster.