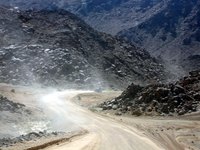 Road dust is stirred up when cars and trucks travel down a road. Road workers pour compounds on the road to reduce the dust in the air. Dust creates environmental hazards, and so do some dust abatement products, so green products for road dust abatement are popular. Green products include Ecobinder, Molex, Dustlock, Earthbind and Enviroseal Dust Control.
Ecobinder
Ecobinder is created with lignum, a wood byproduct produced when wood is converted to pulp, according to Tri-R Environmental Services. Lignum acts like a glue and traps the dust particles. Lignum is not poisonous to road workers or nearby animals. Lignum absorbs liquids as well as dust, improving the quality of the road, according to Tri-R Environmental Services.
Tri-R Environmental Services 211-32500 South Fraser Way Abbotsford, BC V2T 4W1 604-866-8906 dust-control.ca
Molex
Molex is made from beet molasses, a useful green product. Molasses is very sticky. It absorbs dust particles and soaks up water. Because beets are a food source, Molex is safe for plants and animals. Beet molasses also resists freezing, so it's usable during the winter. Molex is a green product produced by Savannah Foods for road dust abatement, according to the University of Minnesota.
Savannah Foods and Industries, Inc. 3000 Tremont Rd. Savannah, GA 31405 912-651-5112
Dustlock
Dustlock, a product of Environmental Dust Control, is made from soybean oil. Soybean products are used for dust control. According to the U.S. Environmental Protection Agency, soybean oil has characteristics similar to other types of oil, such as mineral oil. Soybean oil soapstock, used in dust abatement products, is a byproduct of soybean oil refining and is a renewable resource, unlike petroleum oil.
Environmental Dust Control, Inc. 1729 260th Ave. Currie, MN 56123 507-763-3481 dustlock.com
Earthbind
Earthbind, a product of Enviroad, is made up of plant amino acids. This product is stored as a powder and mixed with water before use, according to Enviroad. Earthbind is non-flammable, and it's a renewable and non-toxic product.
Enviroad 2606 North Newark St. Portland, OR 97217 800-536-2650 enviroad.com
Enviroseal Dust Control
Based on vegetable oils, Enviroseal Dust Control abates dust for six to 12 months, according to Enviroseal. This green product also resists freezing and other harsh weather. Enviroseal offers several blends specifically designed for different types of roads.
Enviroseal Corporation 1019 Southeast Holbrook Court Port St. Lucie, FL 34952 800-775-9474 enviroseal.com