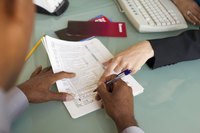 When a taxpayer files Chapter 13, all the traditional Internal Revenue Service (IRS) rules and guidelines regarding refunds are null and void. Since Chapter 13 refund recipients are responsible for debts which are paid by their trustees, and are beholden to the rules of the bankruptcy court, then they must take into account a variety of considerations that most taxpayers aren't forced to take into account. Fortunately, the rules for tax refunds as they relate to Chapter 13 are relatively streamlined.
Trustee
During your bankruptcy proceedings, you will be appointed a trustee. The trustee is responsible for overseeing the debtor's finances and being accountable for all property and income received. Any refund which you are entitled to receive will be forwarded to your trustee. The trustee will then forward you at least the first $2,000 of your refund, unless your delinquency plan elects that the full portion of the refund be applied to your debts. In order to change this arrangement, you'll need to get an order from your bankruptcy judge.
Prior Year Returns
First and foremost, if you are in Chapter 13, the IRS requires that you bring your account current. This means that all prior year returns must be filed before you can receive a refund after filing Chapter 13 bankruptcy.
Back Taxes Owed
If you owe back taxes and have a refund coming, then the IRS will offset the refund to the prior tax year or forward the refund to your bankruptcy trustee. If the IRS offsets your refund, they will send a letter to you and your attorney advising you of the action.
Time Frame
The time frame for receiving a regular refund is six to eight weeks if filed by mail and 10 days if filed electronically. However, the time frame for a Chapter 13 refund is substantially longer—16 weeks. This is due partly to the fact that bankruptcy refunds, unlike regular refunds, are not processed automatically. Instead, a manual refund is issued by an IRS employee.
Questions
If you have any questions regarding the IRS rules regarding bankruptcies (also called insolvencies) contact the IRS at (214) 413-5351. Or you can to:
Internal Revenue Service 1100 Commerce Street, MC 5020 DAL Dallas, Texas 75242 Fax: (214) 413-5243