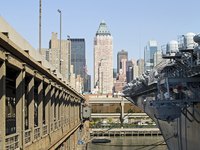 New York City's 39th Street runs through East and Westside Manhattan neighborhoods, from Gramercy to Hell's Kitchen, and Murray Hill to Midtown. On the New York City thoroughfare a microcosm of international cuisine can be found, including Lebanese, Indian and American.
Byblos Restaurant
Byblos Restaurant serves Lebanese cuisine in Manhattan's Murray Hill/Gramercy neighborhood. Established in 1990, the restaurant has garnered favorable reviews in popular publications like Time Out New York and Zagat. The menu features a range of meat and seafood selections, as well as a number of vegetarian items. Appetizers include baba ghannouj, falafel and stuffed grape leaves, in addition to more than a dozen other selections, many of which are vegetarian. Byblos diners can also choose from soups and salads as starters. Entrees include charcoal-grilled meats like shish kebob, as well as seafood dishes like red snapper and the Lebanese specialty Sultan Ibrahim (fried fish). Stuffed lamb breast and stewed mushrooms are among Byblos' chef's specials. Choose desserts like baklawa and kanafy to finish off dinner.
Byblos Restaurant 200 E. 39th St. New York, NY 10016 212-687-0808 byblosny.com
Curry Dream Restaurant
Curry Dream uses a unique blend of spices imported directly from India in all of its dishes. Both vegetarian and non-vegetarian dishes (chicken and lamb) are served in the Midtown restaurant. Paneer tikka (cheese cubes in yogurt), vegetable and meat samosas and chana chat (chickpeas and potatoes) are just a few of the restaurant's appetizer offerings, in addition to soup selections. For the main course, Curry Dream features alu gobi (potatoes and cauliflower) and chana masala (chickpeas in masala) among its vegetarian dishes, as well as the traditional Indian favorite, chicken tikka masala. Enjoy seafood and lamb plates, as well as rice specialties vegetable biryani (basmati rice). Curry Dream also serves lunch. Kosher and halal selections are offered. The restaurant also serves mango lassi and other lassi varieties as beverages.
Curry Dream Restaurant 66 W. 39th St. New York, NY 10018 212-810-4125 currydream.com
Windfall Bar and Restaurant
Midtown's Windfall Bar and Restaurant serves lunch and dinner, and in the evening, converts into a bar. During the daytime, Windfall patrons can enjoy traditional American cuisine, sandwiches, pizza and other fare. Texas chili and class shrimp cocktail are among the eatery's appetizers, as well as salads like the smoked salmon salad. Enjoy any of a range of sandwiches and burgers including the Reuben panini, the turkey burger or the Asian tuna wrap. Windfall also serves a classic margarita pizza and a three-cheese arugula and garlic pizza. In the evening, the restaurant features a menu of appetizers. Windfall's wine list features international and New World selections, served by the glass or the bottle.
Windfall Bar and Restaurant 23 W. 39th St. New York, NY 10018 212-869-4606 windfallnyc.com