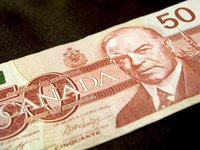 Canadian non-profits can turn to a wide variety of granting sources for financial support. Government resources, foundations, and corporations all offer funding for non-profit organizations. The key to successful grant writing lies in thorough research. Learn a grantor's requirements and focus areas before starting the application process to avoid wasting time and effort.
Foundation Grants
Foundation funding focus areas run the gamut from women's issues to improving the environment, and almost everything else in between. For a searchable list of Canadian foundations, try FundsNet Services' online database of grantors. Charity Village also offers a searchable list of Canadian foundation funders.
The Canadian Women's Foundation focuses its support on improving the lives of women and girls across the country. The Foundation's funds non-profits with the goals of "ending violence against women, moving low-income women out of poverty, and empowering girls with confidence, courage and critical thinking skills." Organizations can apply for one-year and multi-year grants during specific times of the year; check the Foundation's website for specific guidelines. If your cause is environmental in nature, look into the David Suzuki Foundation. The Foundation works with "government, business and individuals to conserve our environment by providing science-based education, advocacy and policy work, and acting as a catalyst for the social change that today's situation demands. Our mission is to protect the diversity of nature and our quality of life."
Government Grants
The Canadian federal government offers billions of grant dollars each year. Funds are distributed through various departments within the government, such as Human Resources and Skills Development Canada that offers grants in areas like aboriginal skills and training; fire prevention; literacy promotion; and social development partnerships. The Social Sciences and Humanities Research Council offers grants in areas such as aboriginal reseach and Canadian environmental issues.
The Canada Council for the Arts is a government-sponsored funder that supports professional artists and arts organizations through grants, endowments and prizes. The Council's mission is to "foster and promote the study and enjoyment of, and the production of works in, the arts." Available grants focus on dance, inter-arts, media arts, music, theater, visual arts, writing and publishing.
Corporate Grants
Many Canadian corporations donate to non-profits, usually within communities in which they have a business presence. Air Canada funds non-profit organizations that contribute to a community's economic growth. Air Canada's Kid's Horizon program supports organizations that work to improve children's health and eradicate poverty. The Bombardier Foundation, the fundraising arm of the Bombadier Corporation, supports non-profits with a focus on education, community support, healthcare, and arts and culture