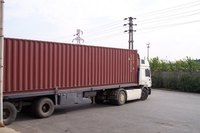 Container trucks are used to haul large items ranging from tools and appliances to refrigerated items. Because of the constant demand to transport these types of items, many trucking companies utilize container trucks to move large quantities at once. Some container truck companies provide transportation services nationwide, while others specialize in quick transport within specific regions of the United States.
World Trade Distribution
Based in Houston, Texas, World Trade Distribution is a company that offers integrated container trucking and delivery, as well as import and export services, freight handling and assistance with customs products. For information on obtaining the services of World Trade Distribution, the company can be contacted through its website, http://www.wtcfs.com/about.html, or by calling 800-275-0221.

Intermodal Container Corp. provides container trucking solutions and delivery services. Based out of Philadelphia, Pennsylvania, Intermodal Container Corporation is located within near proximity to the major industrial industries of the Port of Philadelphia. Intermodal Container Corporation can be contacted through its corporate website, http://intermodalcontainer.net/aboutus.html, or by calling directly for additional information at 866-884-4664.

Vaccaro Trucking
Vaccaro Trucking specializes in moving Conex storage containers, industrial generators and heavy construction equipment. It is a 24-hour-a day, seven day a week operation based in Chicago, Illinois. It specializes primarily in servicing locations throughout the midwestern United States. Vaccaro Trucking can be reached through its website, http://www.vaccarotrucking.com/About-Us.htm, or by calling 773-734-9305.