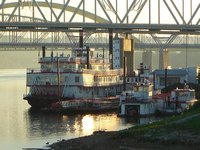 A Mississippi riverboat cruise can be a special experience that leaves you with memories to last a lifetime. You can enjoy meals and refreshing drinks, all against a background of beautiful and historic sights along one of the United States' longest rivers.
Two-Day Overnight Riverboat Cruise
This two-day cruise aboard the Twilight travels along the Mississippi River from Le Claire, Iowa, making stops in Fulton and Savannah, Illinois, followed by Bellevue and Dubuque, Iowa. Guests can enjoy a light breakfast prior to departure: sweet rolls, coffee, tea and cereals. Lunches and dinners consist of chicken, seafood and beef, with snacks for those with mid-afternoon hunger pangs. Complimentary lemonade, iced tea and coffee are always available.
View a working Dutch windmill in Fulton, reputed to be among the first constructed in the United States. Enjoy up-close views of the limestone bluffs of the Mississippi Pallisades State Park, and visit the Julien Dubuque Monument.
The Twilight riverboat was built in 1987. Its main deck space is about 126 feet by 30 feet. The boat is inspected each year and certified by the U.S. Coast Guard. Cruises depart from and return to Le Claire, Iowa. Overnight accommodations are provided at the Grand Harbor Resort in Dubuque, Iowa.
River Cruises 406 Franklin St. Scales Mound, Ill. 61075 800-331-1467 riverboattwilight.com
Steamboat Natchez Mississippi Riverboat Cruise
The Steamboat Natchez offers both daytime and evening cruises, all departing from Louisiana's Steamboat Natchez Lighthouse.
On dinner cruises, enjoy the jazz music of "Dukes of Dixieland," while you eat a casual buffet-style dinner.
On the daytime Harbor Cruise, learn about the history and grandeur of New Orleans, which is still one of the busiest ports in the world. Daytime cruises feature an optional Creole-style meal, with a calliope concert to enjoy as well.
Reservations, especially for dinner cruises, are strongly recommended.
New Orleans Steamboat Company 400 N. Peters St. Suite 203 New Orleans, LA 70130 -1037 (800) 233-2628 steamboatnatchez.com
Spirit of Peoria Mississippi River Cruises
The Spirit of Peoria Cruiseline offers both single-day and multiple-day cruises, along the Illinois and Mississippi Rivers. The multiple-day cruises feature destinations to either Illinois' Starved Rock State Park or to St. Louis, Missouri. The single-day cruises are simply abbreviated versions of the multiple-day cruises.
On each of the cruises, guests can expect live singing, guitar, banjo and ragtime-style piano, as well as entertaining storytelling and interesting historical information at the various stops along the way. Wildlife sightings are also regularly pointed out to guests as well.
Meals on the Spirit of Peoria are all-you-can-eat and feature unlimited complimentary drinks.
The Spirit of Peoria itself was built in 1988 and comes out of Paducah, KY. It has a dry weight of 275 tons, four separate decks, and is 160 total feet in length. Depending on individual currents, the vessel sails at speeds of between 7-10 miles per hour, and accommodates 487 passengers per trip.
The Spirit of Peoria 100 Water Street Peoria, IL 61602 800-676-8988 spiritofpeoria.com