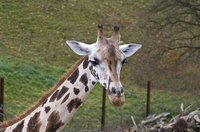 Giraffe's are elegant long-necked animals of the Savannah. Many species are found in Africa, but you can also see these animals in other tropical areas across the world. Giraffe's are able to run long distances at high speeds to avoid predators. There are six main species of giraffe and several sub-species. Different species are distinguished by coat patterns.
Rothschild
The Rothschild giraffe is on the endangered species list because there are only a few hundred members left on earth. This type of giraffe has very dark patches with white channels between each patch, contrasting the darkness of the pattern. Their coat really makes them stand out from other species. This type also has no markings on their lower legs. They like small herds and can grow up to 20 feet tall.
Nigerian
The Nigerian giraffe is also known as the West African Giraffe. This species has light-colored spots that drastically distinguishes them from other species. This type of giraffe can grow up to 18 feet tall. The females carry their babies for 14 to 16 months.
Reticulated
The male Reticulated giraffe can grow up to 19-feet tall. Females reach heights of up to 17-feet tall. This type has very long black tongues and live an average of 25 years. The reticulated giraffe live in Africa and produce large 6-foot tall baby giraffes. They are normally very silent, but they do like to grunt at times. Like other giraffes they have keen eyesight and an incredible sense of smell.
Maasai
The Maasai giraffe also known as the Kilimanjaro has jagged orange cream-colored spots all over their body. Their spots travel down their legs, and they sport sharp hooves to fend off enemies like hyenas. Some males have darker spots than other members in the herd. These beauties live in Africa as well as Ethiopia, Somalia and Tanzania.
Southern
Southern giraffes reach heights of up to 19-feet tall. They live in Africa, and the males can weight up to 4,000 pounds. However, these huge creatures can still run fairly fast at speeds of up to 36 miles per hour. The males horns are thick and bald on top, while the females horns are thin. Most giraffes have horns that grow up to 5-inches long. The Southern giraffes have distinct variations in their coat. Some males have very dark patches while other males and females have brown or chestnut patches.
Kordofan
The Kordofan thrives in the Western Sudan. This type of giraffe is similar to other species with a variety of coat patterns. The males typically have darker patches. This type also has small spots on their inner legs.