Midtown Manhattan is a destination for many tourists, since it is home to Times Square, Broadway shows, the Empire State Building and several of the city's best restaurants. Many New Yorkers also work in Midtown and are always on the lookout for a good lunch or dinner spot. Find any type of cuisine you desire within any budget by checking out some of the best Midtown restaurants in New York.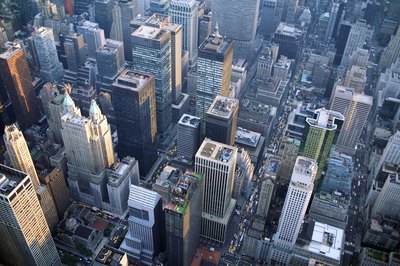 Aquavit
Enjoy gourmet Swedish dishes within a sleek, modern environment. Grab a drink in the lounge and relax in Jacobsen "egg" chairs. Named after a Scandinavian flavored spirit, Aquavit serves weekend brunch and dinner. Try traditional Swedish dishes like beef Rydberg or herring flavored with vodka. If you are hesitant to choose for yourself, try the Chef's Tasting Menu.
Aquavit 65 E. 55th Street New York, NY 10022 (212) 307-7311 aquavit.org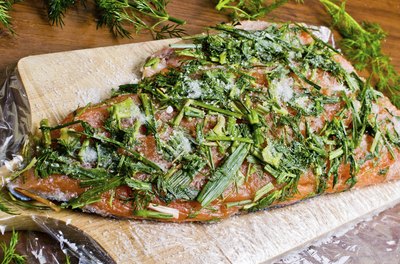 Bar Americain
If you're a fan of Bobby Flay on the Iron Chef, try out one of his famous restaurants, which is also convenient pre-Broadway show dinner spot. An American-style brasserie, Bar Amercain serves comfort foods like shrimp and grits as well as cioppino. The space was designed by famous architect David Rockwell and features rich, dark woods and soft, ambient lighting with Southwest-inspired accents.
Bar Americain 152 W. 52nd Street New York, NY 10019 (212) 265-9700 baramericain.com
Burger Joint
For a lower-brow dining experience, visit the famous Burger Joint. However, you might not be able to find it if you don't know where to look: walk through a cryptic curtain in the corner of the lobby of the swanky Le Parker Meridien hotel on Central Park South. A burger costs less than $10, a deal by Manhattan standards, and add a pitcher of beer for less than $20. Obviously, the word is out, as tourists and locals alike flock to this greasy little hole in the wall. Expect to wait in line.
Burger Joint Le Parker Meridien 119 W. 56th Street New York, NY 10019 (212) 708-7414 parkermeridien.com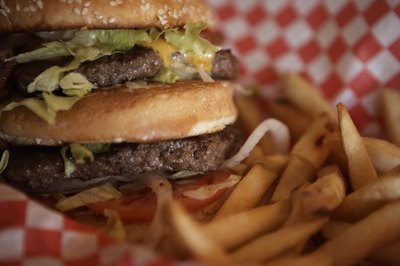 Le Bernardin
For an elegant French meal, Le Bernardin is one of the best restaurants in New York City. Consider it a "special occasion" restaurant if you live in New York, and your top splurge if you're on vacation. Frequently ranking in Zagat's top 5 in just about every category, Le Bernadin is expensive—it's easy to spend several hundred dollars an a meal for two, especially if you enjoy wine—but expect impeccable service and a memorable evening in an elegant setting. If you can't afford that much of a splurge, try the prix fixe menu at lunch, which costs less than $100 per person, without wine. Be aware that the dress code is "jacket required."
Le Bernardin 155 W. 51st Street New York, NY 10019 (212) 554-1515 le-bernardin.com
Sushi Yasuda
Sushi Yasuda is known as "the place to to for sushi" in Midtown, according to many patrons' reviews. The interior is minimal; nearly every surface is covered in light wood paneling. You may choose to sit at the sushi bar or a table. Order extremely fresh sushi, sashimi and maki, or pass on the raw and opt for a cooked dish, such as grilled salmon or Chilean sea bass. This restaurant serves beer and wine only, including sake. Entrees run in the $20 to $30 range.
Sushi Yasuda 204 East 43rd Street New York, NY 10017 (212) 972-1001 sushiyasuda.com