Children's photography preserves kids in their most innocent and wondrous time of life. Not only do photos of children offer the chance to preserve these moments, but also they offer parents and loved ones the opportunity to see their children in adorable settings. Most photo studios have a few specialties—children's photography being one of them. A photo studio that specializes in children's portraiture will want to have plenty of props on hand for the kids being photographed.
(BananaStock/BananaStock/Getty Images)
Bubbles are like the physical manifestation of a child's giggles, and as such have a perfect place in children's photography. Bubbles can be used by themselves or with other props, like a bathtub.
To set up the shot, someone can stand off camera and blow bubbles if the children are babies. Older children can blow the bubbles themselves, adding an active element to the photos.
Ryan McVay/Lifesize/Getty Images
For Western-themed photos, rocking horses are excellent props for a number of reasons. Not only do they support the Western theme (in addition to cowboy hats, boots or Western vests), but also children love rocking horses. They occupy the child who is being photographed, and a rocking motion tends to comfort most children.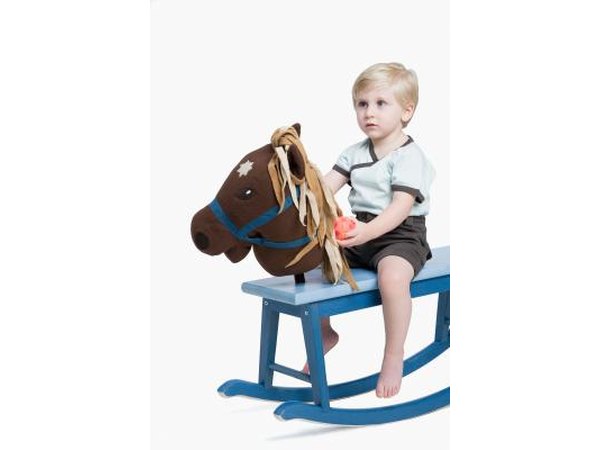 Jupiterimages/Photos.com/Getty Images
Most parents think their children are magical, and props that support that feeling like angel or fairy wings bring a nice touch to the photos. They add a bit of a fairy tale flavor to children's photography and can be used against a backdrop of an enchanted forest or a heavenly sky.
Creatas Images/Creatas/Getty Images
Photo postcards around the holidays are popular gifts for people with young children to give to loved ones. In this case, a Christmas theme can become a whole holiday package complete with Santa's hat, winter scene backdrop, Christmas packages and tree ornaments.
Stockbyte/Stockbyte/Getty Images
Little girls love tea parties, and indeed it is one of the benchmarks of childhood for them. Therefore, it makes a terrific subject for a portrait. During the sitting, care should be taken, however, that there be nothing but water—if anything—in the cups. Spilled liquids can damage the Sunday best clothes.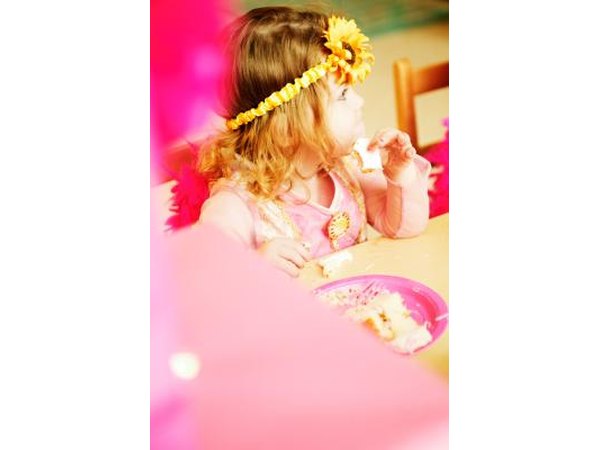 Jupiterimages/Photos.com/Getty Images
Wooden trunks along with theatrical masks, costumes and theatrical-looking dolls like clowns or puppets make fun props for a photo shoot since kids love to dress up and play "pretend." A theatrical set not only offers a variety in terms of the set itself, but also the costumes and the masks allow for different looks all in one sitting.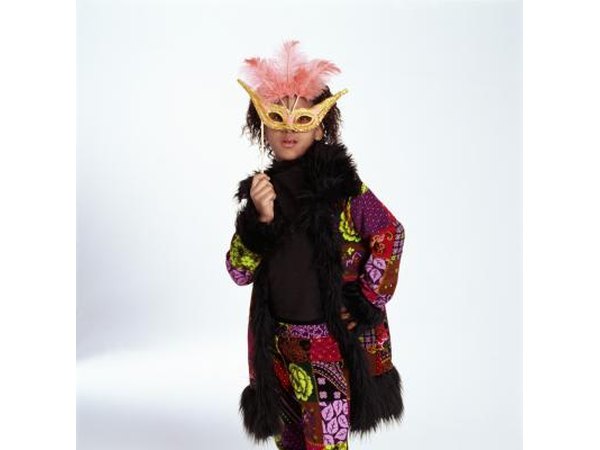 Creatas/Creatas/Getty Images
Small children tend to bring their stuffed friends everywhere with them for comfort, including portrait sittings. These little furry friends create a good foundation for a photo shoot with stuffed animals. While junior's "love" will get the most cuddle rights, other little friends can be added to the scene to complete the effect.
Ryan McVay/Lifesize/Getty Images
Promoted By Zergnet