Mexican finger foods are ideal for appetizer platters at a Mexican-themed party, or simply for fun snacks anytime. Serve nachos, taquitos or flautas, quesadillas and other Mexican finger food as appetizers for a Mexican dinner, such as enchiladas verde or fajitas.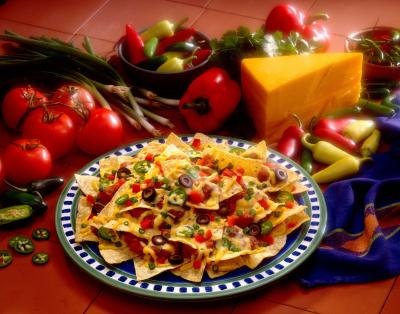 (Jupiterimages/Comstock/Getty Images)
Nachos aren't always a finger food, since they often become overwhelmed by toppings and become too soggy to pick up. You can solve this problem in several ways. The first is to make a layered nacho dip with seasoned ground beef, refried beans, salsa and cheddar cheese, bake it, top it with sour cream (and perhaps jalapeño and onion) and use it to neatly dip tortilla chips. The second is to carefully lay out the tortilla chips on wire racks so they don't overlap, place a jalapeño slice and some onion on each, top them with cheese and bake, so that every chip stays separate, neat and relatively grease-free. Once the cheese has melted, dip the chips in salsa, guacamole or sour cream.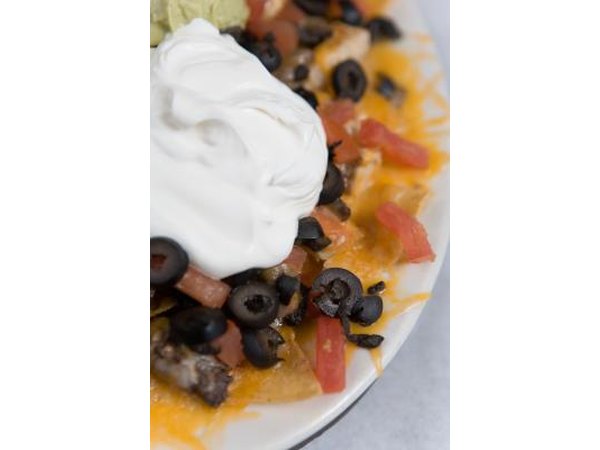 Jupiterimages/Photos.com/Getty Images
Taquitos ("little tacos") and flautas ("flutes") are basically the same thing: tortillas with a bit of meat in the middle, rolled tightly into a tube and fried. The difference is that taquitos are made with corn tortillas, while flautas are made with flour tortillas. You can use a number of different fillings for taquitos and flautas, such as shredded chicken, seasoned ground beef, pulled pork or soy protein (for vegetarians). If you don't want to deal with hot oil, brush the taquitos or flautas with oil and bake them until they're golden brown, although this is less traditional.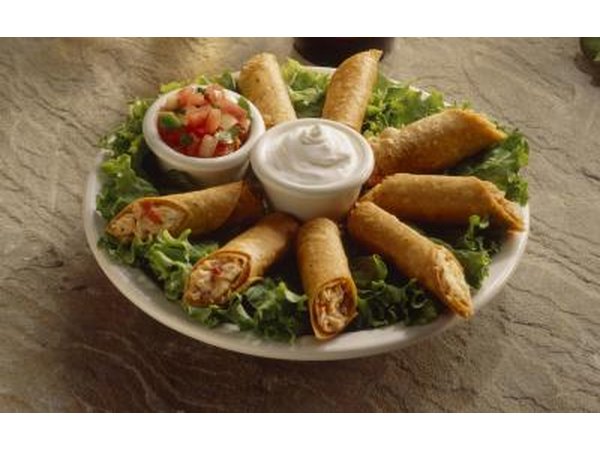 Jupiterimages/Comstock/Getty Images
Quesadillas are incredibly easy to make, and easy to customize based on the ingredients you have on hand. The only two necessary ingredients are flour tortillas and shredded cheese (cheddar, Jack and other cheeses with a similar consistency work best). Grilled chicken and sautéed peppers and onions are typical fillings, but you can get creative and try out some different ideas, such as salmon or bacon. Just don't go overboard on the fillings, or the quesadilla will be hard to flip and messy to eat. Sour cream, salsa and guacamole make perfect dipping sauces for quesadillas.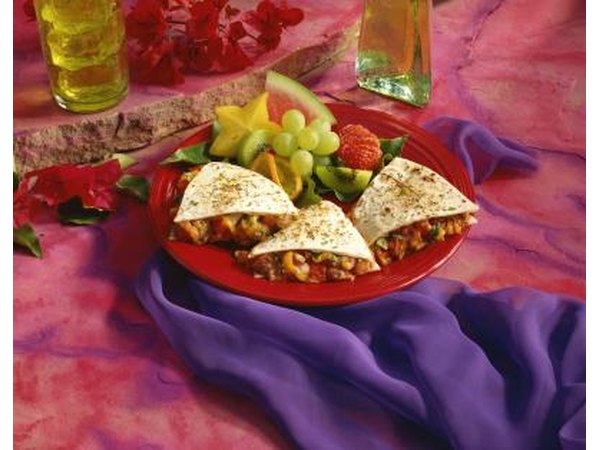 Jupiterimages/Comstock/Getty Images
Promoted By Zergnet