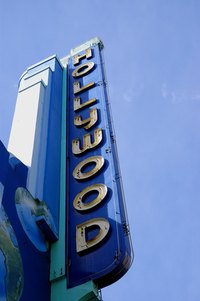 The Entertainment Capital of the World, Hollywood, California draws around 10 million tourists each year. Visitors come to see such famed landmarks as Grauman's Chinese Theater, the Hollywood Walk of Fame and the Hollywood sign. Even some of Hollywood's most historic and beloved restaurants serve as landmarks in their own right.
Musso & Frank Grill
Musso & Frank Grill is the oldest restaurant in Hollywood, dating back to 1919. Since then, the restaurant has hosted a "who's who" of Hollywood elite, including Charlie Chaplin, Humphrey Bogart and Al Pacino. Located on historic Hollywood Boulevard, the interior features an old-fashioned setting complete with red leather booths and waiters in fitted red jackets. Even the menu boasts such throw-back continental cuisine as prime rib, shrimp cocktails and steak, as well as corn beef and cabbage.
Musso & Frank Grill 6667 Hollywood Blvd. Hollywood, CA 90028 (323) 467-7788 mussoandfrank.com
Pink's Hot Dogs
Pink's Hot Dogs, a small food stand situated near the corner of La Brea and Melrose Avenue, dates back to 1939. Known for its unusual and eclectic menu of hot dogs, Pink's offers such items as the bacon burrito dog, the pastrami Reuben dog and the Baja vegan dog. Some of the hot dogs are named after Pink's more famous clientele, as the restaurant caters to a large number of celebrities despite its ultra casual setting. Pink's offers both indoor and outdoor dining, however, keep in mind that seating is limited as the stand often features long lines late into the evening.
Pink's Hot Dogs 709 N. La Brea Ave. Los Angeles, CA 90038 (323) 931-4223 pinkshollywood.com
Formosa Cafe
Situated in West Hollywood, the Formosa Cafe resides in a brightly colored red building, while boasting an old-fashioned interior complete with red leather booths. The Formosa served as a popular hangout for old-time Hollywood studio stars, such as Marilyn Monroe and Frank Sinatra. Today, such celebrities as Nicolas Cage and Jodie Foster have been known to frequent the restaurant. The menu features Chinese food, including such items as chow mein and pad Thai. The Formosa features a full bar as well.
Formosa Cafe 7156 Santa Monica Blvd. West Hollywood, CA 90046 (323) 850-9050