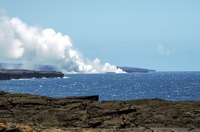 Hawaii's eight islands -- Hawaii, Maui, Kauai, Lanai, Molokai, Kahoolawe and Nihau -- each have points of charm and interest. Many visitors choose to lounge on the crowded Waikiki beach, marvel at the Big Island volcanoes or relax in the lush beauty of Kauai, but a cruise around the island chain gives you an opportunity to take in all the wonders of America's most exotic state.
Take a Small Un-Cruise
With just 36 guests on board, your Un-Cruise Adventure ship will spend seven days sailing you to four islands: Hawaii, Molokai, Lanai and Maui. Many of the crew members are islanders, so you'll get some inside information and stories about local culture and traditions. Visit the whaling village of Lahaina, the waterfalls of Molokai, the old pineapple plantation of Lanai and the fiery volcano on Hawaii. Land tours, kayaking and snorkeling are included, along with all meals, wine and premium spirits. Dress is casual, so you can dine in your bathing suit as long as you have a shirt or coverup.
Feel the Volcanic Heat
Tours with Lava Ocean Adventures take you close enough to Hawaii's Kilauea volcano to hear the sizzle as the red-hot lava drops into the sea. Three twin-hulled boats, the largest accommodating up to 24 passengers, are piloted by experienced captains who know the lava viewing spots well. Choose from sunrise or sunset lava-viewing voyages, or combine the volcano tour with a fishing expedition on an all-day adventure.
Take the Big Ship
Norwegian Cruise Line's seven-day, four island tour sails round-trip from Honolulu throughout the year. This classic big ship boasts 14 restaurants, nine bar lounges, and plenty of deck space for whale watching or to view approaching islands or dramatic volcano eruptions. Overnight stays in Maui and Kauai provide you with ample time to explore. Freestyle cruising allows you to choose food and beverage packages, and kids sail free.
Come From the Mainland
Royal Caribbean International's 10-night island hopper cruise leaves from Ensenada, Mexico, and visits Hilo and Kona on the Big Island, Lahaina on Maui, tiny Nawiliwili and the bustling metropolis of Honolulu. Fare includes most meals, some beverages and on-board entertainment. Shore excursions are available for an extra fee.