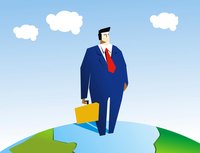 Every organization requires a strong management team to achieve success. Managers provide leadership and guidance to employees, and plan and develop operational strategies. Managers also develop systems to carry out an organization's operations and implement controls to monitor progress and make changes as required.
Planning
Managers must develop plans to meet specific goals. In many cases, the goals are dictated to them by higher levels of management. Managers need to plan how to best allocate their available resources to meet their goals. For example, a production manager may be charged with making a fixed number of a specific product. The manager needs to plan how to use the available manpower and equipment to meet the goal while staying within the constraints of a budget.
Systemizing
Once the plan is in place, managers must create a structure to implement the plan. Each area is assigned a specific task, and a reporting structure is developed to provide accountability. In some cases, the manager may need to work closely with human resources to bring in additional personnel or provide additional training.
Directing
As the work progresses, managers must provide direction to those who work for them. The manager serves as a leader and motivator to keep employees moving forward and provide mediation to remedy conflict. Managers also provide direction by communicating the overall plan and what needs to be accomplished. One strategy often used to motivate is through the development of individual goals for subordinates.
Monitoring
Managers need to monitor activities to make sure the plan stays on track. In some instances, managers may need to reallocate resources if one area is lagging behind, such as reassigning personnel to another manufacturing process. It is rare that a task goes exactly as planned, so a manager must be quick to recognize what adjustments need to be made as things continue. One method of monitoring is to receive regular reports from leaders in specific functions to measure progress.