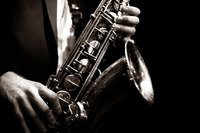 Jazz's appearance in Chicago coincided with the Great Migration, when African Americans fled the Jim Crow South for new opportunities in the North. The new music became an inextricable part of Chicago's identity, and a reporter for the "Chicago Tribune" coined the term "jazz" in 1915. Jazz remains alive and well in the Windy City, and four clubs have received broad recognition as the best jazz spots in Chicago.
Green Mill
The Green Mill opened in 1907 as Pop Morse's Roadhouse, and within three years had become Chicago's equivalent of the Moulin Rouge, with sunken gardens and an iconic windmill mounted on the rooftop. The Green Mill became a center for jazz during Prohibition, and continues to host performances several nights each week. Chicagoist, Chicago Bar Project, CBS Chicago and Time Out Chicago all chose the Green Mill as one of the city's top jazz venues. In addition to late-night performances that can stretch well past 2 a.m., the Green Mill also offers a historical ambience, and once counted Al Capone and Charlie Chaplin as among its patrons.
Katerina's
Located in North Center, Katerina's offers nightly jazz performances and a smattering of Brazilian bossa nova, ethnic Greek and Balkan music, and other world music. This cozy venue serves dinner, and has a menu that specializes in Greek cuisine. Katerina's, which offers both dinner shows and late performances, also received distinction from Chicagoist, Chicago Bar Project, CBS Chicago and Time Out Chicago as one of the city's premier jazz clubs. Opened at the turn of the 21st century, Katerina's exemplifies the contemporary relevance of jazz on the Chicago entertainment scene.
Jazz Showcase
In addition to recognition from Chicagoist, Chicago Bar Project and Time Out Chicago, Jazz Showcase received a special distinction as "Chicago" magazine's best overall place to hear live jazz in 2013. Jazz Showcase, located in South Loop, has featured everything from local acts to Grammy-award winners like Esperanza Spalding, and presents a quiet, intimate atmosphere ideal for jazz aficionados. Jazz Showcase traces its beginnings to 1947, when owner Joe Segal began to promote jazz musicians around Chicago. Though the club has moved several times, the South Loop location inside Dearborn Station promises to provide a stable home for this Chicago institution.
Andy's Jazz Club
A Loop institution, Andy's Jazz Club caters to patrons who enjoy a bustling, communal atmosphere and the frenetic energy of a large audience. One of Chicago's mainstay jazz clubs, Andy's opened its doors in 1951 as a working class pub and began to host a weekly jazz session in 1977. Andy's now has a nightly schedule of all varieties of jazz, from traditional, to bebop and swing, and hosts the occasional residency from jazz greats like Mike Smith and Ernest Dawkins. In respect to Andy's Jazz Club's contributions to Chicago music, Chicagoist, Time Out Chicago and CBS Chicago all chose it as one of the best jazz venues in the city.