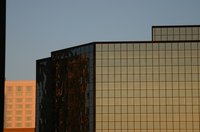 The drive from Macon to Atlanta, Georgia, is 84 miles long, or about an hour and a half driving time. Atlanta is the eighth largest metropolitan area in the United States and the capital of Georgia. Macon is the sixth largest city in the state. Driving from Macon to Atlanta is a relatively easy trip. However, a longer itinerary may necessitate an overnight stay between the two cities. Also, the chances of finding a decent deal may be better along I-75 corridor, which connects Macon and Atlanta.
Ramada Limited-Locust Grove
Located about 37 miles south of Atlanta is the Ramada Limited hotel in Locust Grove, Georgia. This hotel is walking distance from an outlet mall and less than 10 miles from Atlanta Motor Speedway, where NASCAR races are held. The property offers high-speed Internet and a pool, as well as a continental breakfast.
Ramada Limited Locust Grove 197 Stanley K Tanger Blvd. Locust Grove, GA 30248 770-898-1216
Comfort Suites-Locust Grove
Positioned a half-mile away from the outlets in Locust Grove, Georgia, is the Comfort Suites hotel. This hotel offers full breakfast, wireless high-speed Internet, newspaper, local calls and parking, all for free. In addition, you will find a heated year-round pool, gym and business center.
Comfort Suites 4699 Bill Gardner Parkway Locust Grove, GA 30248 (678) 827-7700 http://www.comfortsuites.com/hotel-locust_grove-Georgia-GA683
Country Inn in McDonough, GA
Closer to Atlanta is the Country Inn & Suites hotel located just off Interstate 75 in McDonough, Georgia. The hotel has such amenities as a indoor pool and gym, as well as free wireless Internet. Easy access on and off I-75 also serves as an factor in deciding whether or not to stay here.
Country Inn & Suites 115 E. Greenwood Road McDonough, GA? 30253 (770) 957-0082? http://www.countryinns.com/hotels/gamcdono