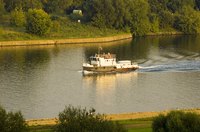 Fishing, sailing, camping and cruising are among the activities on the Choptank River, a branch of the Chesapeake Bay in eastern Maryland. Many of the ships that cruise the Choptank are re-creations of the original paddleboats or steamboats used for shipping along the Chesapeake Bay in the early 1800s. Others that conduct tours, however, take the tourists back to a more primitive era.
Suicide Bridge/Choptank Riverboat Co.
The most popular venue conducting cruises along the Choptank River, Suicide Bridge Restaurant has two 80-foot paddlewheel boats that offer a number of different ways to experience the river. Options include a lunch cruise ($35 per person) that lasts two hours; a dinner cruise ($48 per person) that lasts three hours; the Crab Feast ($50 per person), a three-hour cruise aimed at crab lovers; and a sightseeing tour ($15 per person).
Choptank Riverboat Co. 6304 Suicide Bridge Road Hurlock, MD 21643 (410) 943-4689 suicidebridge.com/riverqueen.html
Cambridge Lady Cruises
The "Steamboat Reverie" cruise is a narrated four-hour tour on the Choptank River aboard a steamboat akin to those used before 1920. Each passenger receives a map so he may follow the narration while on the tour. Cruises are $35 per person.
Cambridge Lady Cruises P.O. Box 1061 Cambridge, MD 21613 (410) 221-0776 cambridgelady.com
The Nathan of Dorchester
This skipjack, commissioned in 1994, was built from "salvaged equipment no longer in service." The one- to two-hour tours are led by licensed sailors who describe the ship's equipment and the maritime history of the region. The cruises run on Saturdays and Sundays; pricing ranges from $15 to $25.
The Nathan of Dorchester c/o The Dorchester Skipjack Committee P.O. Box 1224 Cambridge, MD 21613 (410) 228-7141 skipjack-nathan.org/SailingSchedule.htm.
Return to Nature kayak tours
Using a kayak, the tourist travels from Goldsboro to Greensboro, a six- to seven-mile trip, which explains the difficulty rating as "hard." The water is not tidal, however, so if children can paddle the distance, this is a great trip for them. The voyage normally lacks bald eagle sightings, but plenty of hawks, songbirds and fish, joined by a menagerie of turtles, ducks, heron, beaver and owls can be seen.
Return to Nature 4458 Killens Pond Road Felton, DE 19943 (443) 604-3073 rtnkayaks.com/index.html