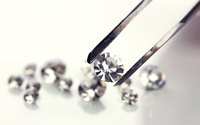 Bigger isn't always better with diamonds -- the four Cs include clarity, cut and color, as well as carats. But people continue to be influenced by size. The biggest known diamond in the universe -- displacing the Cullinan diamond, which was 3,106 carats before being cut -- is in outer space, and is as big as the sun. A carat is about the weight of a paper clip. Consumers ordinarily choose from a range of 0.25 carats to 5 carats for their diamond jewelry.
A Diamond's Weight in Carats
A carat is equal to 0.2 grams. Sizes will vary despite similar weight, depending on the chosen cut. A round, 1-carat diamond, for example, might be 6.5 millimeters in diameter, while a 3-carat round diamond would be 9.4 millimeters. A 5-carat round diamond would measure 12 millimeters. Another measurement to consider is the crown, the part that's visible when the diamond is set. In addition to carats and cut -- whether round, oval, emerald, pear-shaped or square -- both clarity and color figure into the diamond's price.