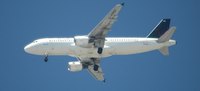 Longboat Key is a popular Florida vacation destination, just off the West Coast, near the city of Sarasota. It's known for its golfing and beaches, according to VisitFlorida.com. Because Florida is such a popular tourist destination, and Longboat Key is centrally located, there are plenty of airports within a reasonable distance.
Tampa Airport
The Tampa airport, TPA, is the closest large airport to Longboat Key. It's an elegant, clean airport that often has great rates and is less crowded than the larger Miami Airport or the popular Orlando airport. In 2004, J.D. Power and Associates ranked this airport as #2 in the U.S. and #4 in the world for overall passenger satisfaction.
Tampa Airport 4100 George J. Bean Parkway Tampa, Florida 33607 813-870-8700 tampaairport.com
Orlando Airport
The Orlando Airport, MCO, is the second-closest major airport to Longboat Key. The Orlando airport has world-class facilities, including lodging, shuttles to the nearby theme parks and resorts, and an on-site Disney store for great souvenirs. It's about a 2 1/2-hour drive from the Orlando airport to Longboat Key.
Orlando International Airport One Airport Blvd Orlando, Florida 32827-4399 (407) 825-2001 orlandoairports.net
Miami Airport
The Miami International Airport (MIA) is Florida's largest airport, and because it has so many passengers, it is often the least expensive airport for arrivals and departures. Miami airport has impressive architecture and artwork, as well as great dining options. It is about a four-hour drive to Longboat Key.
Miami International Airport P.O. Box 025504 Miami, FL 33102 305-876-7000 miami-airport.com
Smaller Airports
For a little more money, you can get flights into some of the nearby smaller airports. The closest airport is the Sarasota, SRQ, airport, which would require only a drive across the bridge to Longboat Key. The St. Petersburg airport, PIE, which is actually in Clearwater, is just south of Tampa.
Sarasota Bradenton International Airport 6000 Airport Circle Sarasota, Florida 34243-2105 941-359-5200 srq-airport.com
St. Petersburg/Clearwater Airport 14700 Terminal Blvd. Clearwater, FL (727) 453-7800 fly2pie.com