Recycled crafts teach kids about being resourceful. They also make very affordable craft projects, since you don't need to buy a lot of special craft supplies. Christmas crafts made from recyclable materials dress up the home and Christmas tree in a festive and creative manner. The one-of-a-kind recycled Christmas crafts also make good Christmas gifts for friends and families.
(BananaStock/BananaStock/Getty Images)
Old CDs are the perfect shape and size to make recycled Christmas tree ornaments. The sparkly, metallic side of the CD adds shine to the decorations, particularly when the colorful lights of the Christmas tree reflect off of them. The kids decorate the CDs with glitter glue, gemstones, sequins and any other craft supplies they wish to use. A hot glue gun works well to adhere the decorations. A loop of ribbon or decorative cord hot glued to the back of the CD allows you to hang it from the tree. You can also glue two CDs together with the shiny sides facing out for a double-sided ornament.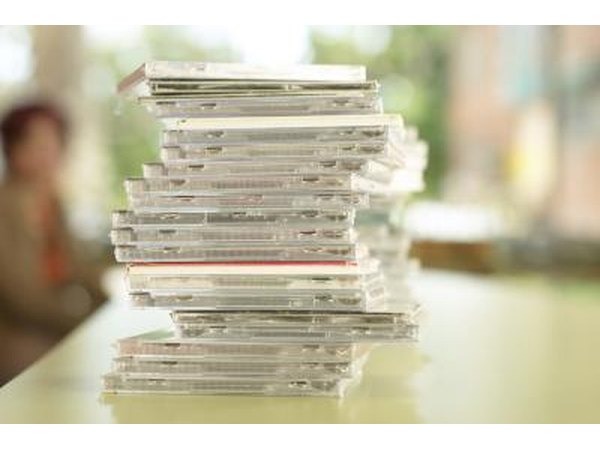 Hemera Technologies/AbleStock.com/Getty Images
If you're not sure what to do with your old Christmas cards, save them to recycle them into new crafts. The kids can cut the Christmas images out of the old cards and make them into many different crafts such as collages or new Christmas cards. They also make simple place cards for Christmas dinner. Cut and fold a piece of card stock to create table tent-style place cards for the table. Use the Christmas pictures from the cards to decorate the place cards.
Jupiterimages/Photos.com/Getty Images
The leftover strips of wrapping paper work well to create homemade bows. You'll save money and recycle the scraps into one-of-a-kind package toppers. A circle of cardboard between one and two inches in diameter creates the base of the bow. The strips of paper are cut to about four inches long and a half an inch wide. You can modify the sizes to make smaller or larger bows based on your preference. Make the strips into loops of the bow. You'll start around the outside edge of the cardboard taping the loops in place so they stick out around the edge. Continue adding more rows of loops as you move in toward the middle of the cardboard. Add looks until you are satisfied with the bow.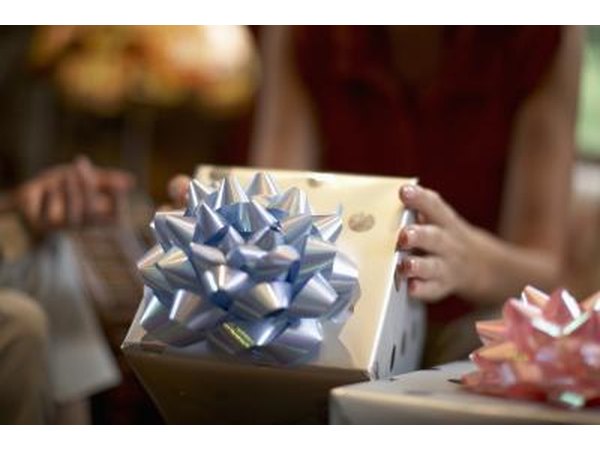 Kim Carson/Photodisc/Getty Images
An old tomato cage can serve a purpose during the winter months. When turned upside down, the tomato cages resembles a Christmas tree. Cover it with pine boughs or green felt to make your own recycled tabletop Christmas tree. You can add lights and decorations to the tree to dress it up. When Christmas is over, remove all of the decorations and it can once again serve as a support for your tomato plants.
Visage/Stockbyte/Getty Images
Promoted By Zergnet