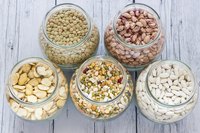 As a vegetarian, you may find it difficult to consume enough protein, leading to a greater risk for health issues. To prevent this by planning your meals appropriately, calculate your daily recommended dietary allowance for protein in grams by multiplying 0.37 by your weight in pounds. Further dietary restrictions, physical activity, age and certain health conditions may alter your needs, so it may be helpful to consult a registered dietitian.
Signs of Insufficient Protein
If you're protein-deficient, your body will be unable to efficiently maintain and repair your tissues. You may experience muscle wasting, bone weakening and loss, and hair loss or dry, brittle hair. You may feel weak or tired and may have swollen hands, feet or abdomen. Further, severe protein deficiency compromises the ability to fight off disease, impairs enzyme and hormone production, limits wound healing, and slows growth in children and teens.
Vegetarian Protein Sources
Some of the richest sources of vegetarian protein come from edamame, as well as tempeh, which is fermented soybeans, and seitan, which is made from the protein in wheat. Lentils, peas and beans are all excellent as well, with some offering up to 18 grams per cup. Tofu, nuts, seeds and grains offer a little less per serving, but many are high in protein. Some of the most surprising sources include spinach, with 5 grams per cooked cup, and broccoli, with 4 grams per cooked cup. Ovo-lactovegetarians who consume eggs and dairy products can obtain protein from those sources as well.