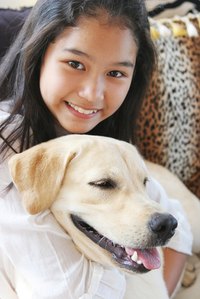 Animal shelters and humane societies are overrun with abandoned pets looking for loving homes. The real tragedy is that thousands of these animals end up being euthanized rather than adopted. Sadly, shelter animals are often thought of as "sloppy seconds" or "someone else's problem." On the contrary, a rescued dog or cat can be a better alternative to purchasing a pet from a breeder. Adopting a pet from a shelter can be one of the most rewarding things you can do. The benefits are numerous.
That "Feel Good" Feeling Is Priceless
Get that heartwarming feeling of knowing you saved not just one but two lives. The pet you adopt will leave an open space for the shelter to take in another needy animal. Your rescued pet will also provide you with undying love. Everybody wins.
Save Your Carpet, Your Shoes or Your Sanity
Chances are that "pre-owned" pooch at the shelter is already housebroken. Puppies that are not yet housebroken are a lot of work and must be watched constantly to avoid accidents. An older dog has a developed bladder with more control. Furthermore, if a pet has anxiety or separation issues, shelters often provide counseling and behavioral training to help you.
Animals Are "Vetted" and Can Be Healthier Pets
If you are purchasing a young pup or kitten, it's highly unlikely that the "breeder" has paid to have it thoroughly checked out before it goes to a new home. Shelters and humane societies examine, watch and, if necessary, treat the animals in their charge.
Save Money
Shots, vaccines, and spay or neuter fees for your shelter pet are typically rolled into the shelter's adoption fee and are much less expensive than if you went to a private vet.
No Guessing About Size or Temperament
If you adopt a more mature animal, there will be no guessing as to what it will look like or if it'll fit in your car or your lifestyle. You can choose an activity or personality level to fit your own.
Help Put Puppy Mills Out of Business
Pet mills that are in business to make a buck off of helpless animals will be in business only as long as people continue to support them. Putting your heart and your money toward adopting a shelter animal can reduce a cruel industry's supply and demand.