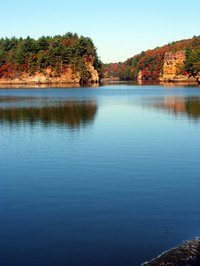 The Wolf River in the Fremont area of Wisconsin offers visitors endless recreational opportunities. Known as a fishing haven for walleye and white bass, the Wolf River is also ideal for water skiing, inner tubing, canoeing, and kayaking. Wolf River Country, encompassing Winneconne, Fremont, New London, and Shiocton is a bustle of activities with antique shops, golf courses, parks, wildlife areas, biking, and hiking, and a variety of seasonal festivals. Travelers to the region may want to check out the variety of vacation cabin rentals available along the Wolf River.
Yogi Bear's Jellystone Park Camp-Resort
Located just outside of Fremont, Jellystone Park sits on the shores of Partridge Lake, only minutes from the Wolf River. This first-class resort-campground offers rustic camping cabins and full service cottages for vacation rentals. In addition to the 990-acre lake, Jellystone guests have only a mile downstream trip to reach the Wolf River. Rustic camping cabins are small, between 13' x 9' to 12' x 12' but can sleep between four to six people. All cabins have heat and air conditioning and covered porches. Picnic table and fire rings are included at each cabin. Linens are not included. Rustic Cabin rates in 2010 range from $73 to $96 per night. If you would like a larger cabin, the Comfort Cottages are 13' x 13' and sleep up to six. Cottages include heat and air conditioning, TV/VCR, and a kitchenette with small appliances and dorm-size refrigerator. Each unit has a bathroom with shower. Comfort Cottages rent from between $120 to $161 per night. Guests of Jellystone Park may take advantage of the wading and Olympic-sized swimming pool, 18-hole miniature golf course, sports area, playgrounds, horseshoe pits, game room, and more. A general store with groceries and camping supplies is on-site for renters' convenience. The general store also sells pizza, sandwiches, and ice cream.
Yogi Bear's Jellystone Park Camp-Resort E6506 State Rd. 110 P.O. Box 497 Fremont, WI 54940 (800) 258-3315 fremontjellystone.com/
Wolf Ridge Cottages
Serving the community for over 50 years, Wolf Ridge Cottages in Fremont offers vacationers and fishermen six cottage rentals on the Wolf River, just south of Partridge Lake. These one- and two-bedroom cottages include a bathroom and kitchen. Some cottages have a living room, outside deck, pullout bed, card table, and grill for outdoor cooking. Cabins are rented April through May, with May rates being the peak season. In 2010 cabins rent from as low as $70 per night (except May) to $100 per night. Weekly rates range from $340 to $375. Some cabins are unavailable for nightly rentals. No pets are allowed at the cabins. Cabin guests can take advantage of the nearby public beach, restaurants, and shops of Fremont, local fishing, and tubing and water ski shows. Guests are not permitted to clean fish in the cabins.
Wolf Ridge Cottages P.O. Box 538 522 Wolf River Dr. Fremont, WI 54940 (888) 446-3167 wolfridgecottages.com
Wolf River Getaway
Enjoy over 120 feet of river frontage in these two cozy cabins on the Wolf River. Located in New London, Wisconsin, Wolf River Getaway offers guests vacation rentals in a prime location for fishing and recreational boating with over 100 miles of navigable waterways nearby. Cottage one offers accommodations for between two and six guests. Cottage two comfortably sleeps up to ten people. Both cabins feature a separate living/dining area, cable TV, washer and dryer, center air, full kitchen, Wi-Fi internet, bed linens, two baths, gas grills, fire pit, dedicated boat dock, and riverfront view. Cabin two offers an additional sleeping area and a TV. Rates in 2010 are $110 per night for cottage one and $125 per night for cottage two. Weekly rentals are discounted, with a two-night stay minimum. Pets can be brought for an additional charge. Cottages are only a half-block to the New London boat launch and local bait shop. Shopping, entertainment, and restaurants are only a few blocks away. Pontoon rentals are available on-site.
Wolf River Getaway E9256/9260 Hwy X New London, WI 54961 (920) 427-2464 wolfrivergetaway.com