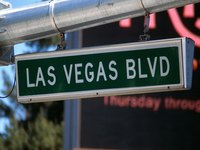 Las Vegas might be the last on board, but it finally has hopped on board the non-smoking train. More and more, Las Vegas casinos now provide non-smoking sections. For non-smokers or those who simply cannot tolerate the overwhelming cloud of smoke that hangs over most every casino floor in Las Vegas, there are now options. A trip to Las Vegas no longer means headaches and coughing fits with these alternatives.
Bellagio
The Bellagio has long been hailed as one of the finest gaming rooms in Las Vegas. Its ban on smoking in the poker rooms (think Texas Hold 'Em) continues that tradition of excellence. According to Las Vegas Poker Rooms online, the Bellagio's non-smoking rooms are open all day and night and have 30 tables of poker available at all times. Additionally, it analizes each table game pit daily to accommodate non-smoking gamblers.
Bellagio 3600 Las Vegas Blvd. S. Las Vegas, NV 89109 (702) 693-7444 bellagio.com
Harrah's
Harrah's poker room also presents a non-smoking environment. Harrah's has a wide-range of tables ranging from low buy-in tournaments to high-stakes Omaha tables, all of them smoke-free, according to the Harrah's website.
Harrah's 3475 Las Vegas Blvd. S. Las Vegas, NV? (650) 555-4000? harrahslasvegas.com
MGM Grand
The MGM Grand offers a couple of different options for non-smokers. For table games, pits 2, 4, 11 of the tables games are non-smoking, according to Las Vegas Advisor, an online source for Las Vegas information. Las Vegas' largest casino also touts 22 non-smoking poker tables.
MGM Grand 3799 Las Vegas Blvd. S. Las Vegas, NV 89109 (702) 891-1111 mgmgrand.com
The Mirage
Like the other casinos listed, the Mirage's poker room is completely non-smoking. Additionally, a few blackjack tables also are smoke-free. By request, open tables can also be sectioned off as smoke-free, according to Cheapo Vegas online.
The Mirage 3400 Las Vegas Blvd. S. Las Vegas, NV? (800) 374-9000? mirage.com