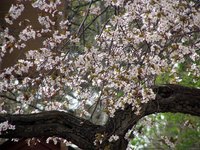 Tropical hardwood trees are distinctive members of a diverse and healthy tropical forest, as well as an important source of some of the most desired and sought after commercial wood. This puts hardwood trees at the center of the controversy of rainforest exploitation versus practical commercial harvesting. About half of all the world's forests are in the tropics, that belt around the Equator between the Tropic of Cancer and the Tropic of Capricorn.
Mahogany
Mahogany, one of the most famous of tropical hardwood trees, and is probably the most valuable. It is used for furniture and paneling, and because of its strength and resistance to decay, is often used in making boats. This tree grows in Mexico, Central America, down to the northern part of South America. It grows to 150 feet, and is one of the canopy trees of the natural tropical forest.
Teak
Teak is also prized for its resistance to decay and insects, and is used commercially in cabinets, furniture, flooring and also boats. It does not warp and withstands weather. It is native to India and Southeast Asia, but is now grown commercially in Costa Rica. Teak grows quite fast and can grow to 130 to 150 feet in height.
Brazilian Cherry
The Brazilian cherry tree is large, growing to a height of 150 feet, a rainforest canopy tree. Its trunk can grow 6 feet in diameter. The bark produces a gum that sometimes is used in medicine. Its wood is very hard and heavy. Its high value commercially makes it one of the most sought-after trees, and so is now in danger of extinction outside of national parks and protected preserves.
Purpleheart
The purpleheart, or violetwood, can reach 120 to 150 feet in height in the rainforest, with a diameter of about 2 to 4 feet. Like many other tropical hardwood trees exploited commercially, this tree is nearing extinction in areas where it used to flourish. The wood from this tree has a deep purplish color after cutting. Among other products, it is used in cabinets and furniture, parquet flooring, and billiard cue butts.
Trebol
Trebol, or macawood, is a slightly smaller tree growing to about 100 feet in height in the natural rainforest. Also in danger of extinction outside of preserves and national parks, the wood is hard and durable. It has various applications, including in cabinets, furniture, and musical instruments, violin bows and billiard cue butts.