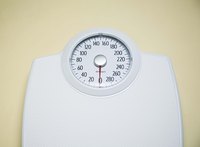 Weight-gain products advertise quick weight gain and muscle building for "hardgainers," or thin people who have a hard time gaining muscle mass. The manufacturers claim that these products help athletes perform better and gain a competitive edge. Several different options exist, but it's important to be aware of possible side effects.
Relatively Quick Results
Weight-gain supplements advertise quick weight gain and muscle-building. Generally, products claim that their supplements work in about six to eight weeks.
Work Best When Paired with Other Weight-Gain Routines
Weight gainers often do give users the desired results, but they work best when paired with other weight-gaining strategies. The strategies that work best when paired with weight-gain supplements include the following: eating more calories than you burn, having a workout routine that focuses on muscle-building, and eating enough protein. When weight training, focus on heavier weights and fewer repetitions. Eat one and a half to two grams of protein per pound of body weight a day.
Side Effects Exist
Sound evidence about the possible side effects of weight gainers is hard to find. Make sure that you read all the fine print included with your supplement and report any adverse effects to the manufacturer immediately.
Some supplements contain excess amounts of sugar to increase caloric content. This excess sugar could cause an insulin spike, which could give some users headaches. Search for a brand with less sugar if you experience this. Supplements with testosterone could increase the user's risk of prostate cancer or an enlarged prostate. The Mayo Clinic also says that some users experience testicle shrinkage and/or a decrease in sperm. In addition, users are at a greater risk of sleep apnea and heart disease. Excess testosterone could also cause acne. To control acne while you're supplementing with testosterone, wash with a gentle soap and use a benzoyl peroxide acne spot treatment.
Avoid weight gainers with steroids, as they could cause adverse long-term side effects.
Results Are Hard to Determine
Some weight-gain products contain synthetic testosterone to help build muscle in men who don't necessarily have a testosterone deficiency. Though these products do increase testosterone levels, the Mayo Clinic says it's unclear whether these products actually increase testosterone levels. It does appear, though, that some men might experience an increase in muscle mass.
Wide Variety of Supplements Available
Modern weight-gain supplements come in a variety of flavors and proteins. Though weight-gain supplements used to use sugar to give their users additional calories, current supplements use whey or casein proteins. They also have many different ratios of carbohydrates, proteins and fat. Look for twice as much protein as fat.