One of the most dramatic ways to experience a Sarasota sunset is aboard a cruise. There are several to choose from, and all afford opportunities to witness the area's sea life, blazing sunset and opulent waterfront mansions. Whether you prefer a party boat, a dinner cruise or a quiet romantic sail, you'll find a satisfying choice at Marina Jack in downtown Sarasota.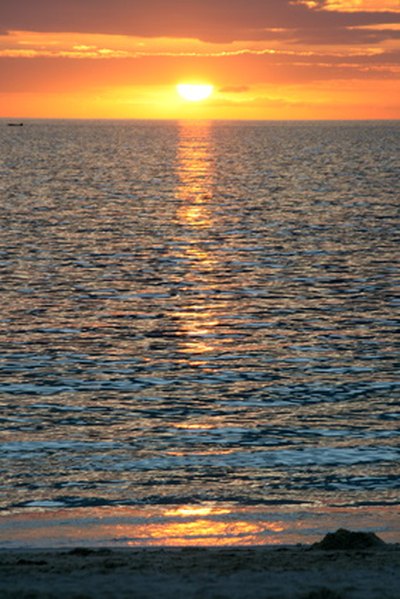 LeBarge Tropical Cruises
LeBarge Tropical Cruises is probably the only place where palm trees provide shade at sea. There's no mistaking this funky boat with its towering palms, quirky mermaid sculptures and live music emanating from the upper deck. Though LeBarge offers daytime and after-dark sailings, the Sunset Entertainment Cruise is the most popular, providing a festive gathering place for friends, families and corporate groups.
The lower deck features a small kitchen for purchasing casual food such as hot dogs and nachos, plus a cash bar and restrooms. The open-air upper deck is where most guests try to secure a table upon boarding; seating is first-come, first-served. Sip cocktails while drinking in the beauty of Sarasota's islands and setting sun. Dancing usually breaks out shortly after departing the dock.
LeBarge Tropical Cruises Marina Jack 2 Marina Plaza Sarasota, FL 34236 941-366-6116 www.lebargetropicalcruises.com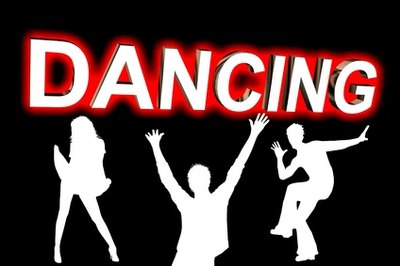 Marina Jack II
For a multisensory dining experience, reserve a table aboard the Marina Jack II's sunset dinner cruise. The luxury mega-yacht is richly appointed in polished brass, warm woods and recessed lighting. Because of its design, the motion of the boat is barely perceptible but for the changing scenery along Sarasota Bay.
Dress resort casual, or get all "decked out" for the gourmet-quality buffet and a truly moving view. Dinner is a generous spread of salmon and prime rib au jus. Lunch is also served daily, and features Chicken Marsala and the catch of the day. Both include garden-fresh vegetables and decadent desserts, all served in air-conditioned comfort. Guests can step out on the open-air deck before or after dinner. Chances are, dolphins will be leaping alongside the vessel.
Marina Jack II Marina Jack 2 Marina Plaza Sarasota, FL 34236 941-365-4232 www.marinajacks.com/dinner_boat.htm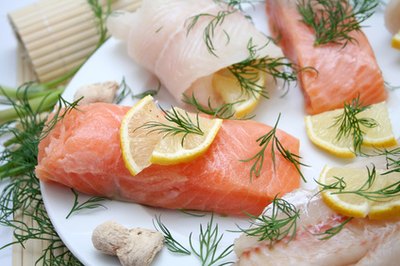 Enterprise Sailing Charters
Enterprise offers a variety of cruises that range from two-hour trips to full-day excursions, and, of course, a sunset sail. The tall, double-masted, tri-sail 41-foot Morgan offers a smooth, safe sail with a personable crew. While a full meal is not part of the package, soft drinks, snacks and appetizers are. Guests are welcome to pack their own picnics and "adult" beverages to enjoy along with the gulf breezes, historic landmarks and celebrity homes.
Enterprise Sailing Charters Marina Jack 2 Marina Plaza Sarasota, FL 34236 941-951-1833 www.sarasotasailing.com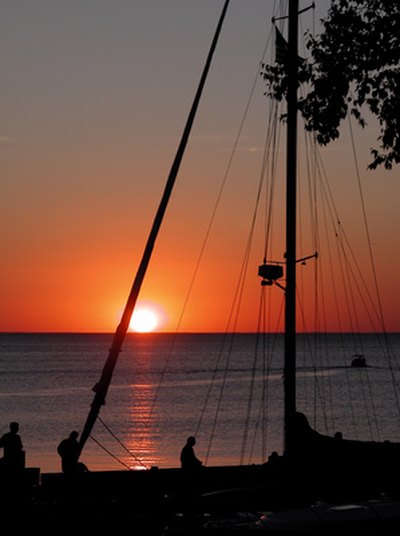 Key Sailing
Key Sailing provides a similar yet different sailing adventure compared to Enterprise, due to the diversity of the owners' personalities and local experiences. Both vessels are 41-foot Morgan sailboats whose hosts offer colorful narrated sunset tours of the history, celebrity homes and natural amenities that Sarasota is known for. Appetizers and soft drinks are part of the package, though guests are welcome to bring aboard their own food and drink. Key Sailing is documented and insured for up to 12 passengers. However, when they mix and match couples, they limit the sail to a total of six people. Enterprise and Key Sailing work together to help insure you can sail on the date of your choice; if one is booked, the other will accommodate.
Key Sailing Marina Jack 2 Marina Plaza Sarasota, FL 34236 941-346-7245 www.siestakeysailing.com