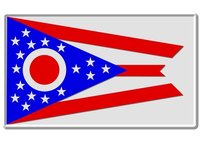 Considered one of the most affordable places to retire by U.S. News and World Report, Ohio may not the first place that seniors consider when looking to retire. However, with luscious greenery and parks, the Scioto River, access to numerous museums, and area colleges (Ohio State University, Miami University of Ohio, and the University of Cincinnati), Ohio is certainty a place for retirees to enjoy numerous amenities, as well as being in an area where they can relax.
Columbus, Ohio
Retirees looking to live in a city in Ohio may want to consider residing in the state capitol of Columbus. This Midwestern area is lush with greenery and the home of the Scioto River where active seniors can enjoy walks around its landscape. Columbus is also home to Ohio State University where seniors can take a variety of continuing education courses such as ceramics, writing, or even learn a second language, as well as being the home of corporations such as Nationwide Mutual Insurance and Bob Evans Farms. Retirees can also enjoy numerous recreational activities like enjoying a football or baseball game at the Ohio Stadium or Huntington Park and local cultural attractions such as the Columbus Museum of Art, the Ohio Theatre, and Columbus Zoo. Through these cultural institutions seniors get to enjoy symphonies, concerts, artists talks, or simply visit at a reduced admission.
Mason, Ohio
For retirees seeking a small suburban community in Ohio, Mason may just be the place. Located in the southwestern region of Ohio, Mason is covered in 28 miles of greenery, including parks with lakes, playgrounds, golfing areas, hiking trails, and areas to park in sports. Retirees who love sports will also enjoy living in Mason. According to U.S. News and World Report, Mason is considered one of the "strongest football communities" where Bengals and Buckeye games are always full of excited fans. Seniors can also enjoy watching two basketball teams (the Dayton Flyers and the Xavier Musketeers) in Mason, as well as a broomball games at Mason High School, where seniors obtain discounted tickets throughout the season. Mason is also home to Miami University of Ohio, and nearby University of Cincinnati and the University of Dayton where retirees can enjoy concerts held at these colleges or take continuing education courses. The area also has numerous hospitals (Linder Care of Hope, Mason Health Solutions, and Christ Hospital) and a rich concentration of businesses in the area such as "Procter & Gamble's Health Care Research Center, Cintas, Mitsubishi, and Luxottica Retail."
Portsmouth, Ohio
An area rich in historical landmarks from the 1800's, Portsmouth is a small city of approximately 23,000 people situated in the northern part of Ohio that is also within close proximity to Cincinnati and Columbus (90 miles away). The area features 14 public parks such as the Carter Caves State Resort Park, access to numerous churches, a public library, and access to more than five murals and art projects located on Front Street. Retirees can also enjoy numerous activities while living in Portsmouth. Some places to enjoy concerts, community art, theatre, or various events are at the Clark Planetarium, the Portsmouth Community Orchestra, the Portsmouth Little Theater, Southern Ohio Museum & Cultural Center, and at the Vern Riffe Center for the Arts. There is also the Historic Bonneyfiddle District where retirees can enjoy events such as a plant sale, shopping from local vendors, and a car show with classic models.