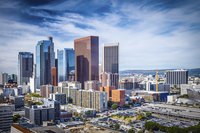 When the sun goes down on America's second largest city, it's time to saddle up for a night of boot scootin' across the dance floor at Los Angeles area country-western nightclubs. California's cowboy heritage is on display at urban saloons with western memorabilia on the walls. For those who don't know how to two-step, line-dance or waltz across a hardwood floor, some establishments offer free dance lessons before the bands warm up their guitars or fiddles.
Cowboy Palace Saloon
Dance to live country-western music every night at Cowboy Palace Saloon in the Chatsworth neighborhood of Los Angeles. Dance lessons are offered every night at the rustic bar with a large dance floor and a 12-horse hitching post outside. Local and national country-western bands play throughout the year and patrons are often western stuntmen and local rodeo riders. Past acts have included the Dixie Chicks, Johnny Paycheck and Riders of the Purple Sage. In a city known for pricey nightclub cover charges, this saloon doesn't have one. Free barbecues are also occasionally on the schedule.
Oil Can Harry's
Except for disco nights on Saturdays, country-western music is on the jukebox or on stage most nights at Oil Can Harry's in Studio City, a Los Angeles neighborhood better known for its movie lots. Local country bands regularly play here. The nightclub offers free country-western dance lessons on Tuesdays and Fridays. A scene from the 1999 movie "Happy, Texas" was filmed here.
Cowboy Country Saloon
Two dance floors, two full bars and a restaurant take up 15,000 square feet of space at Cowboy Country Saloon south of LA in Long Beach. The building is where a bar scene was filmed for the 1991 movie "Thelma & Louise." Country-western bands perform Wednesday, Friday and Saturday nights. The shows are preceded by free dance lessons at a bar with rodeo memorabilia on rough-cut cedar panel walls.
Montana's Country Nightclub
About 30 miles east of LA, in San Dimas, Montana's Country Nightclub opens its dance floor to the public only on Friday and Saturday nights. A chandelier made of deer antlers hangs from one ceiling. There's a cover charge, but no live music. Disc jockeys play traditional and contemporary country tunes.
Country-Flavored Places
Cinema Bar in Culver City, just south of Los Angeles, bills itself as an "Americana" bar with its mix of music from country-western, bluegrass and folk bands. There's no cover charge at Cinema Bar, which has a dance floor and live music scheduled every night. Joe's Great American Bar & Grill in Burbank, just north of LA, regularly schedules country-western bands to play on the corner stage beside its dance floor. The Saddle Ranch Chop House in West Hollywood has no dance floor, but there is a mechanical bull inside. The owners describe the restaurant and bar with Old West décor as "rock meets western."