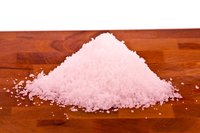 Sea salt and lemon are a winning combination. They introduce a flavor balance to foods that is highly esteemed by cooks around the world. They also provide a high dose of electrolytes. In combination, they make for a savory, sugar-free snack when sprinkled on vegetables, rice, or nuts, and finally, they contain together a plentiful mix of antioxidants and trace minerals.
Nutritional Content
Lemon and sea salt, combined, provide a powerful boost for your health. Antioxidant vitamin C from lemon destroys free radicals, helping to prevent cancer and heart disease, repair cell walls, and reduce swelling due to arthritis. It is also an immune-system booster. Flavonoids are also found in lemons. These stop many cancer cells from proliferating and also act as an antibiotic.
In sea salt, you'll find many trace minerals that you don't get elsewhere in your diet, including ones you've never heard of, like antimony, rubidium and tantalium. The actual trace minerals found in the sea salt varies according to where the sea salt came from. Additionally, sea salt contains significant amounts of more common essential minerals like calcium, potassium, phosphorus and copper.

Sugar-free
A salty, lemony snack can cure a case of the munchies without sugar. Simple sugars can cause extreme blood sugar fluctuations and lead to blood sugar crashes, unwanted weight gain, diabetes and heart disease. Candy and soft drinks also have no nutritional content. Get out of the habit of munching on sweets and into the habit of using salt and lemon in moderate amounts to flavor whole snack foods like veggies, whole grains or nuts. This healthy diet change will benefit you in both the long term and the short term.
Electrolytes
Sea salt and lemon snacks, or even a bit of each in a bottle of water, can be a boon to athletes and other active people who need to replenish their electrolytes. Electrolytes are the ionized salts in your body that help you retain water. Without them, you'd get dehydrated, no matter how much water you drank. Every time you urinate or sweat, you lose electrolytes, so it's important o replenish them regularly. For most people, everyday foods contain plenty of electrolytes. But for highly active people or those who live in hot, dry places, electrolyte loss is faster; sea salt and lemon can help replace them quickly.

Flavor
The flavor combination of sea salt and lemon are a basic culinary tool that is used for seasoning everything from cooked vegetables to fish to fresh salads. They both work to enhance the flavors of the foods they are used on (if they are used in moderate amounts) and are pleasing to almost every palate. They are also affordable and readily available seasonings; both sea salt and lemon are available in most local supermarkets.