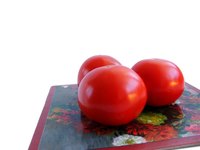 Genetically modified organisms, or GMOs, are plants and crops that scientists have altered for qualities which make them easier to produce or more marketable. These include being heartier, more resistant to pests, larger, more colorful, having longer storage or shelf life, greater temperature resistance, higher crop yields and shorter growing cycles.
The United States Food and Drug Administration--which is responsible for the safety of the food we consume--has ruled that GMO foods are "substantially equivalent" to non-modified crops and therefore do not need any special regulation by the FDA. However, other governments--including Brazil, Japan and India--have regulations regarding the growth and distribution of genetically modified foods. These governments, as well as many private groups and organizations, are concerned about the long-term impact the GMO products may have on consumers.
Allergic Reactions
Some modified foods may cause allergic reactions that unmodified foods do not. In 1996, The New England Journal of Medicine reported a common allergic reaction to soybeans which had been modified to include genes from Brazil nuts.
Gene Transfers
Modification of genes in crops has the potential to lead to genetic transfer to human cells or to bacteria in the human digestive tract. Some GMO crops may lead to antibiotic resistance, and therefore the World Health Organization discourages genetic modifications which may in any way foster this consequence.
Outcrossing
Some strains of GMO crops are developed specifically for animal feed and not for human consumption. The WHO confirms that there is a real risk that plants in the wild may cross-breed and the genetic modifications meant for animal feed may get into crops for human food supply.
Unknown Effects
Because GMO foods are relatively new and being developed in new forms all the time, there is not yet long-term study on how they may affect people over the course of decades or a lifetime. It is possible that conditions, health trends and disorders we see or may begin to see could eventually be traced to GMO foods. This is why there are many studies on GMO foods and their effects.