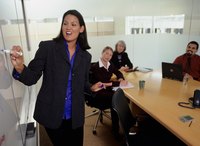 Leadership training and development programs enable companies to nurture outstanding employees so they become the company's future leaders -- a less-expensive prospect than hiring outsiders. Prior to launching a leadership program, clarify and express your organization's vision, values and strategy. The most effective leadership training avoids a one-size-fits-all program. Instead, customize the program's components to serve the goals of your organization.
Cue from Strategy
The context of your leadership training program can be found in the language of your strategy or business plan, which explains how your organization differentiates itself in the market. By assessing performance reviews as well as observing and interviewing the effective leaders within your organization, you can define specific leadership traits for training. For example, "determined worker" may be too vague and universal. Instead, aim to train your leaders to "go the extra mile to deliver client projects that are on time and of the highest quality."
Use Real-World Examples
Instead of sequestering potential leaders in a remote locale, find ways to integrate your leadership training with on-the-job activities and expose your leaders to practical real-world situations. For example, The Walt Disney Company doesn't just pass out a list of customer service values to its emerging leaders. It shares tales of customer service coups during leadership instruction. Then, the company takes its leaders-to-be to Disney parks and points out the mechanisms of their customer support network, according to Inc. The "The Wall Street Journal" how-to guide on developing future leaders recommends that you have potential leaders circulate through various jobs in your company and acquire new skills.
Encourage Communication
In the Internet age, staff can be located in different locations and often managed via email or digital conferencing. It's a challenge for leaders to cultivate relationships with the workforce. A major component of a leadership development program is to train leaders how to communicate via these channels with clarity and purpose, according to Inc. In addition, leaders require training with social media tools and corporate intranet information-sharing systems, so they learn about the values of transparency and the keeping the workforce informed.
Avoid Common Mistakes
After talking to many chief executives about leadership training, McKinsey & Company pinpointed four mistakes. The first is lack of context. Leadership training that is one-size-fits-all fails to address differences in leadership style, corporate strategy or culture. The second is separating reflection from the job. Link leadership development to on-the-job tasks. The third is not taking into account mindsets. Potential leaders may have feelings, thoughts or beliefs that inhibit change and hinder training. Finally, many companies don't gauge the results of leadership development programs. One international bank reviewed promotions and found that graduates of their leadership program were rising higher in the organization than those who hadn't undertaken the leadership curriculum.